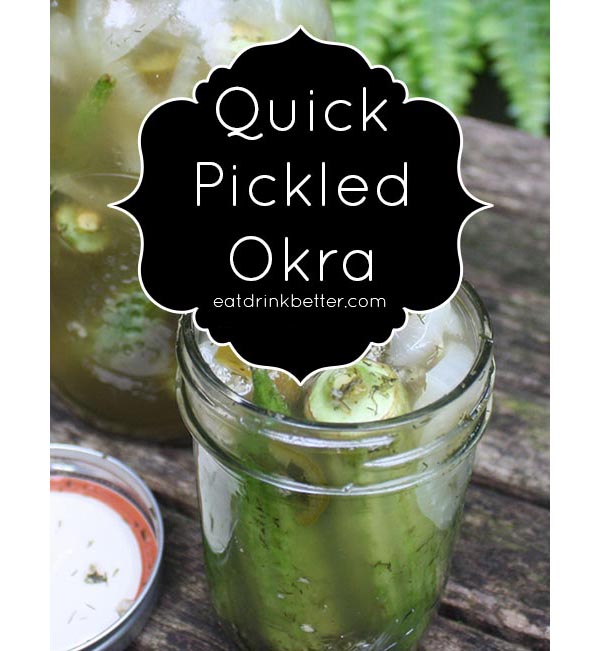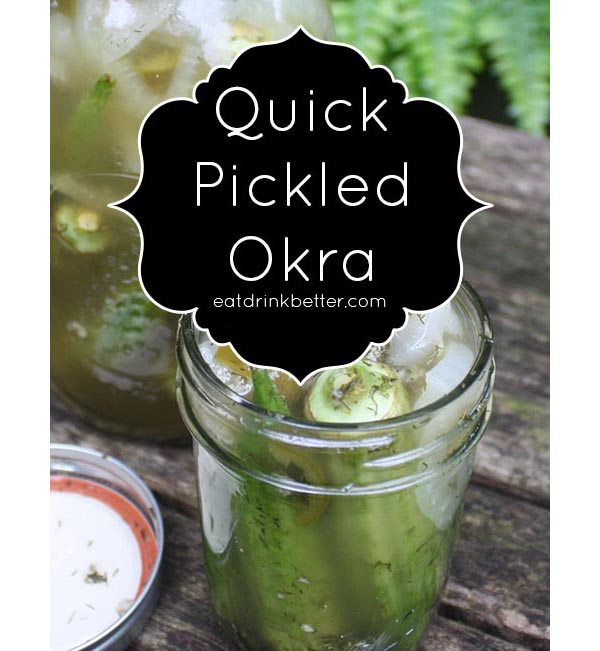 This is the pickled okra recipe that I'm going to demo on Okra Day at our local farmers market. I am so jazzed to share it with you!
My super awesome friend Jenifer Carter does design work with the Freedom Farmers Market, a new farmers market that started this summer in my neighborhood. It's a small market that's dense with good vendors, and on August 23rd, they're celebrating Okra Day!
Related: Okra Chili Recipe, What's in season now? 3 tools to help you find fresh!, USPS Releases Stamps Celebrating Farmers Markets
Jenifer emailed me a couple of weeks ago and asked me if I would be into doing a pickled okra recipe demo at the market. Of course I said yes! Since I did a quick pickle demo at the East Point Farmers Market, I just had to adjust my recipe a bit to work with okra instead of cucumber.
The pickled okra recipe below – like the one I demoed in East Point – is another variation of my pickled green beans recipe. This recipe is for refrigerator pickles, which means that you don't need sterile jars or any sort of canning skills. Refrigerator pickles get stored in the fridge even before you open the jar.
Most of the recipes I've read say that refrigerator pickles will keep for 3-4 weeks, so I am officially saying that too. Unofficially, I have kept refrigerator pickles around for closer to 6 weeks without problems. It's totally your call!
Pickled Okra Recipe
yield: about 3 pints
Ingredients
1 pound

whole okra

1 tablespoon salt

2 3/4 cups

apple cider vinegar

1/2 cup

sweet onion, sliced

1 tablespoon

dried dill


2 cloves

garlic, minced

1

jalapeno, chopped with seeds removed
Method
Combine the okra and salt in a colander, and toss to combine it really well. Let the okra sit for one hour, then drain and rinse well.
Meanwhile, combine the onion, vinegar, dill, garlic, and jalapeno right in a small saucepan. Heat the mixture on high until it comes to a boil, then simmer for just a couple of minutes, until the onions and peppers begin to soften.
Divide the okra between your jars, and pour the vinegar mixture over them. As you can see in the photo above, I used one quart jar and one pint. You can also use three pint jars, if you prefer.
Screw the caps onto your jars loosely, then tighten them when the jars have cooled to the touch. Let your pickled okra chill for 24 hours before serving. Use within 3-4 weeks.
Syndicated with permission from Glue and Glitter.