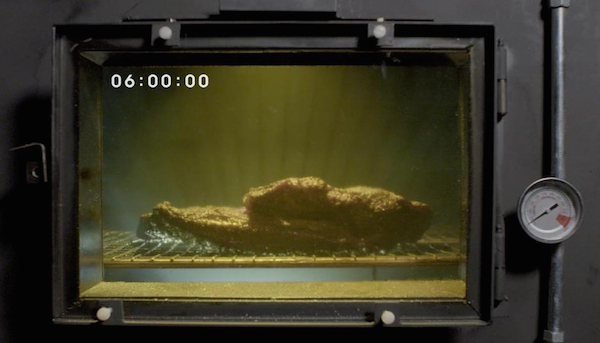 Hopefully you don't eat as much fast food as you used to. Maybe you've given it up entirely. If anything, you've probably given up the really heinous stuff, you know, like Arby's. Which is probably why the Georgia-based fast food chain is live-streaming a 13-hour commercial today showing nothing more than a brisket being smoked in its entirety. Brisket, in case you're not in the know, is a big, dead chunk of a cow.
The commercial, which will be streaming from 9 a.m. to 10 p.m. EST on a dedicated website, features no dialogue, no whimsical marketing language (apparently the media is doing that for free, ahem) and nothing more than a cow carcass in a smoker that, after 13 hours, gets removed by Arby's corporate chef, Neville Craw. The chain filmed the event over the weekend and according to the New York Times, was aired on a single station in Duluth, Minnesota, and "features a really long shot of seasoned brisket being cooked in a smoker 'fitted with a glass window and internal light' at a smokehouse in Texas that actually cooks the chain's brisket," reports Eater. The ad actually sets a Guinness World Record for the longest television commercial ever aired.
Arby's is doing all this to "prove" that it really does smoke the meat in its Smokehouse Brisket Sandwich. Arby's brand president noted, "If there was ever a doubt that we actually pit smoke our brisket for 13 hours over real hickory wood, this ad makes it pretty mouthwateringly clear that we do."
And the cost? A whopping $250,000 to get you to rethink your relationship with Arby's fast food. Yes, sadly, the company with 3,400 locations would rather spend that money on a senseless gimmick like this instead of securing a more humane supply chain, or purchasing local or non-GMO ingredients, like Chipotle—which also just unveiled a marketing gimmick of its own. Instead of staring blankly at meat cooking, Chipotle partnered with novelist Jonathan Safran Foer on curated literature featured on Chipotle cups. It's still fast food, of course, but it's certainly a step up from meat-watching.
Image via Eater