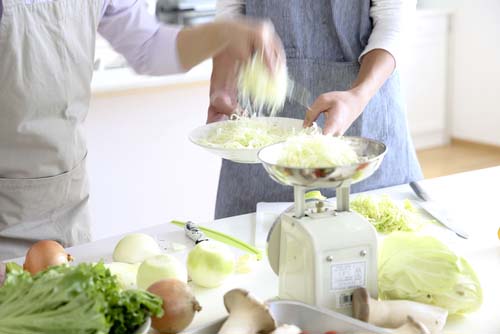 Could home cooking help fight the obesity crisis? A new study found that even people who aren't trying to lose weight eat better when they cook at home.
The study presented at the American Public Health Association's 142nd Annual Meeting analyzed more than 9,000 people's eating habits. The authors found that people who frequently cooked at home ate fewer calories and less sugar and fat. In fact, folks who ate more home cooked meals even ate fewer calories when they did go out to eat.
Lead study author Julia A. Wolfson, MPP said, "When people cook most of their meals at home, they consume fewer carbohydrates, less sugar and less fat than those who cook less or not at all — even if they are not trying to lose weight." The Johns Hopkins Bloomberg School of Public Health study underscores what most home cooks already know. But it's nice to have the validation, isn't it?
Adults who cooked dinner once a week or less ate around 2300 calories per day, while people who cooked six or seven times a week ate closer to 2150. That 150 calories a day may not seem like much, but that adds up to gaining five pounds every six months.
Encouraging people to cook at home could be a key piece in solving the obesity puzzle, but for a lot of people home cooking is hard to fit into a hectic schedule. And for people living in food deserts, access to fresh, healthy food can be a problem.
How do we make home cooking more accessible? Wolfson addressed this in her presentation, saying, "Efforts to encourage home cooking should consider time constraints, lack of access to affordable, high-quality, fresh ingredients, as well as lack of cooking equipment, which limits the amount of food Americans are able to prepare themselves at home."
Easier said, but if something as simple as home cooking could prevent obesity and help Americans be healthier overall, it's definitely worth the effort.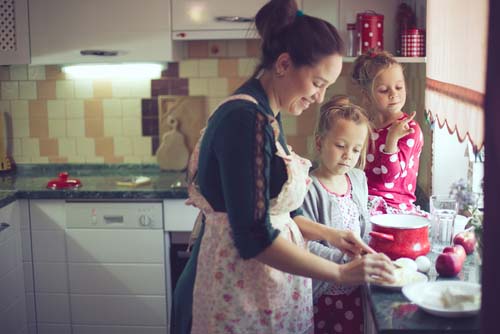 Home Cooking Resources
Need some help to get your own home cooking on track? Here are some resources to get you going!
+ Weekend Cooking for Week-Long Eats
+ Easy Lunch Ideas You Can Pre-Make for the Work Week
+ Vibrant Wellness Journal's Quick Meals Archive