What do many overweight and obese people have in common? Inadequate hydration. A new study discovered a strong link between obesity and dehydration.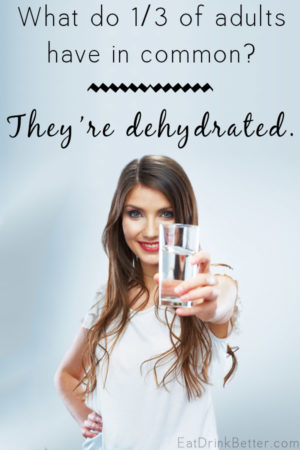 The University of Michigan study, published in the journal Annals of Family Medicine, looked at data on over 9,500 people and found that subjects who were overweight or obese were also inadequately hydrated. This is early research on the link between obesity and dehydration, so the researchers stress that they can't yet say whether obesity dries you out or whether not drinking enough fluids contributes to obesity.
One finding was clear: around a third of the adults they studied were not adequately hydrated.
In a press release about the study, lead author Dr. Tammy Chang explained, "Our findings suggest that hydration may deserve more attention when thinking about addressing obesity on a population level. Staying hydrated is good for you no matter what, and our study suggests it may also be linked to maintaining a healthy weight."
Dr. Chang makes a great point: making sure we drink enough water can't hurt. Even if further research reveals that inadequate hydration doesn't directly cause weight gain, there are some great reasons to make sure that we're drinking enough fluids. Staying hydrated helps prevent constipation and helps improve your energy levels, just to name a couple. And most of us aren't drinking enough.
A 2015 study found that children in the U.S. aren't drinking enough water. In fact, the researchers found that just over half the children studied were slightly dehydrated. And kids aren't the only ones who need to drink more water. In 2014, the British Nutrition Foundation reported that elderly people are more prone to dehydration because of a decreased sense of thirst, among other factors.
Whether you want to drink more water to support a healthy weight or for overall health, it can be a tough habit to start. First, because you may be confused about how much water you actually need. The "eight glasses a day" rule is a general recommendation, but some experts say that we may need even more. If you want to get really technical, you can use a calculator to determine how much water to drink in a day.
The recent obesity and dehydration study really popped out at me, because right now I'm actively working to fit more water into my day-to-day. One thing that's really helped me is a free app called Plant Nanny. Basically, you record each glass of water that you drink, and the app treats that as an act of watering a virtual plant. It's like a hydration Tamagotchi.
Instead of nagging you to drink, Plant Nanny turns drinking water into a game. And it calculates how much water you need based on your weight, so it takes that guesswork out of the equation. I wrote about Plant Nanny for Care2, and you can see some screenshots and get more info about it over there.
If drinking water isn't your thing, don't worry! Any fluids count toward your water goals, as long as they're not caffeinated or alcoholic. Even if you don't like water, there are ways to stay hydrated without turning to sugary sodas or fruit juice. Try some of these low-sugar drink ideas that are jazzier than a glass of water. You can also up your water game by eating high-water foods, like cucumbers and tomatoes.
Do you have any favorite tricks to help you drink enough fluids? I'd love to hear about your tricks in the comments!
Image Credit: Obesity and Dehydration image via Shutterstock.
Disclosure: Plant Nanny hasn't compensated me in any way for this post. I have found it helpful, and I thought that others might, too!