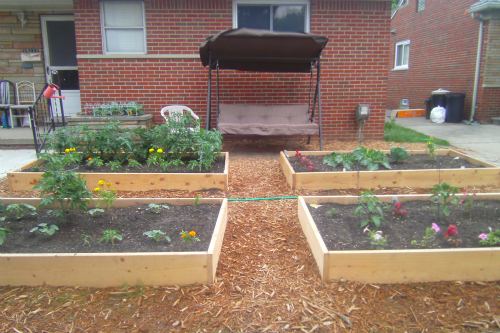 Last week Julie Bass, a Michigan homeowner who was slapped with fines and possible jail time for growing a food garden, discovered that a judge had dismissed the garden charges. We reported on on it last week, and Julie was kind enough to reach out with some more details.
Julie says:
the dismissal without prejudice means that the prosecutor can come back at any time and reinstate the garden charge as well (he has already reinstated the dog license charge, but i will get to that in a minute). there has been no final disposition of the case, so we can't take a deep breath and relax.
We haven't really been covering the dog license charge here, since it's not a food-related issue, but on top of the garden situation, the city of Oak Park has been after the Bass family about their dogs' licenses. As we mentioned last week, the dismissal is different from a not guilty ruling, and the prosecutor can bring the garden charges up again at any time. Julie elaborated on that point further in her email:
the prosecutor wants more time to review the ordinance. not that he has given up on the garden charge. to the contrary, he wants more time to look things over. i think usually the prosecutor in normal cases would ask the judge for a continuance or an adjournment or something. why they handled it this way is a suspicious mystery…

we still have our same court date- july 26th. we still have to appear for a pre-trial, only this time it will be for 2 misdemeanors (the dogs), instead of 1 misdemeanor for the garden
For now, it sounds like their court date is only to address the dog licensing charges, which I haven't been following as closely, but as she mentions, the garden charges could come up again. If they do, we'll be sure to keep you guys posted!
Image via Oak Park Hates Veggies