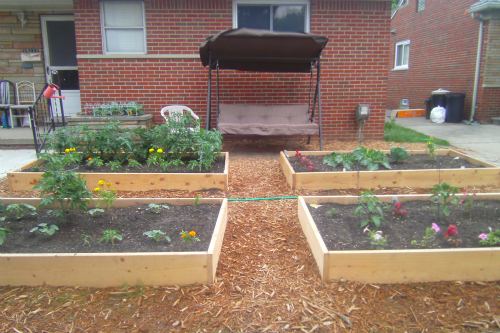 Have you guys been following the family in Oak Park, Michigan that got slapped with fines and possible jail time for their food garden? I've been keeping an eye on Julie Bass' blog, and it looks like the city dropped the charges but never notified the family or their attorney. Here's what Julie says:
our attorney went into court this morning to file a motion. while he was there, someone told him the charge against the garden was dropped.
Hopefully, this is the end of their front yard garden saga, though, as Bass points out, since there was never an official "not guilty" ruling, the city could try to penalize them again at any time.
I'm glad to hear that the charges got dropped, and hopefully we'll hear some more information about what happened. There's been a serious public outcry about the Oak Park garden situation, and I wonder if the city wanted to avoid the bad press that would come from taking a food gardener to court. They were certainly getting their share of bad press already.
We stuck this poll in the previous post about the garden, but since we're on the topic, I thought I'd see put it here, in case anyone else wants to chime in:
[polldaddy poll=5219578]
A few folks responding to our poll selected the second option: that neighbors have complained about their food gardens. If that's the case for you, and you'd like to talk more about that, I'd love to hear your story! Feel free to drop us a line through our contact page or email me directly at becky AT importantmedia DOT org.
What bothers me is that this doesn't strike me as an isolated incident. It seems like more and more people are dealing with fines for growing food, for a variety of reasons. I understand that these officials in Oak Park felt like they were just doing their jobs. This strikes me as more of a systemic problem than a problem with any particular city employee or code officer.
Photo via Oak Park Hates Veggies