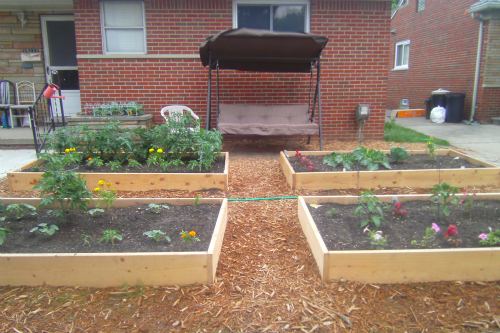 A family in Oak Park is fighting a legal battle to keep their front yard vegetable garden.
We've talked before about people getting in trouble for edible gardens. In Canada, residents in one neighborhood were getting slapped with fines for their basement vegetable gardens, thanks to an outdated law, and here in Georgia, a man was fined for growing too many veggies on his land. It looks like a resident of Oak Park, Michigan is facing similar troubles.
After a sewer pipe broke on their property, Julie Bass and her family had to dig up their whole front yard to repair it. Rather than plant a water-sucking lawn or ornamental plants, they opted to build a set of raised beds and grow food on their property instead. After checking with the zoning board, they learned that the city of Oak Park allows decorative plantings, and Bass felt that a beautiful yard full of fruits and veggies would fit the bill.
Not so, apparently.
They hired a contractor to build their raised beds and planted them full of edibles. A couple of weeks later, they got a visit from code enforcement, and they've been fighting for their Oak park garden ever since. Here's a local new segment on the issue:
I guess edible food doesn't fall under "suitable" in the eyes of the city of Oak Park? Bass is now facing fines and a possible 93 days in jail for her raised garden beds. Our sister site, Sustainablog, has a compelling analysis about the meaning of the word "suitable" as it relates to this case that's definitely worth a read.
You can keep up with the situation on Bass' blog, and we'll be keeping an eye on the Oak Park garden legal battle as it unfolds, as well.
Have you heard of other folks getting in trouble for growing food? It seems to be a recurring issue, and I find it really worrisome.
[polldaddy poll=5219578]

Photo via Oak Park Hates Veggies