This seed bank could be the answer to our looming food crisis. That may seem like a lofty claim, but check out the video above from AJ+ (from the Al Jazeera Media Network) to learn about how a world's worth of seeds are stored safely away in the Arctic snow at a Norway seed bank.
Locked away on a frozen island in Norway, the Svalbard Global Seed Vault (also known as the Doomsday Vault) houses seeds from all over the world. These seeds– thousands of varieties of fruits, vegetables and other plants– have been put in place to save humanity should we face a local or global food catastrophe.
While the thought of something so disastrous seems remote for many of us living in the US, it has recently become necessary for one country in particular to make the first withdrawal from this unique depository.
The civil war in Syria has destroyed homes and displaced families, but it has also had a devastating effect on agricultural research in the country. CNN reports that the gene bank in Aleppo (which is managed by the International Center for Agricultural Research in the Dry Areas), "is one of the most important in the world and includes more than 135,000 varieties of wheat, fava bean, lentil and chickpea crops, as well as the world's most valuable barley collection."
The seeds that were withdrawn for the seed bank in Aleppo were actually deposited there by the same organization starting in 2012 as conflict started to make their work difficult. They moved their research to another seed research facility in Lebanon. The newly withdrawn seeds– the first to ever be taken out of the vault– will be grown in greenhouses, the forthcoming seeds will be saved, and researchers will be able to replenish the seed stock of these important 'dry area' seeds.
The Importance of Seed Saving
Whether you are  farmer, gardener or just an eater (which, of course!), seed saving is a really important topic.
Seed saving simply means saving the seeds from good crops from one year to plant the next year. This is something that all farmers did, y'know, back in the day. But it's still important for many reasons.
Firstly, thousands of varieties of fruits and vegetables have been lost to time; sometimes because they have been swapped out for hardier or more beautiful versions of similar crops, or maybe because they've been cross-bred with other varieties to bring out the best of both varieties.
So why is genetic diversity in food plants important? Remember the film Intersteller? They were burning the last okra crop– the last vegetable left except for corn– because it was finally destroyed by pestilence. Sure, it's fictional, but it's a definite future possibility (for the pessimistic among us).
And surely you've heard of the infamous Irish potato famine? This national disaster was the result of a virus that infected the one variety of potato that had been planted across the nation (in play along with social and political factors that impoverished the nation and forced them to rely on potatoes as a staple crop). If there had been more varieties, could the Irish have saved their crops and their lives?
The Seed Saving Movement
Vandana Shiva, a physicist and and of the loudest proponents for global seed saving, says that seed saving saves our food supply AND our cultures. Shiva says, "The desire to save seeds comes from an ethical urge to defend life's evolution."
When I heard her speak in Honolulu years ago, she was adamant that seed saving is our right as humans, and that any attempt to steal the seeds from a culture (either by genetically modifying it or by patenting it, as was the case with traditional Indian basmati rice), is theft.  Not only is this biopiracy a cultural issue, it's a scientific one.
By stealing seeds that have been saved by a people and taking them for a company, the culture might no longer have access to newly patented seeds; it's also an issue of economics. Traditional farmers may have been doing the research, hybridization, and saving those seeds for generations, and there now might be a monetary cost to the seeds which the company can take with no compensation.
Finally, Shiva – and other global activists– are adamant that one of the most important reason to save seeds is to protect our food supply from the fallout from genetically modified seeds.
As GM plants are grown across the world, they cross-pollinate naturally with other crops; this can contaminate non-GM and organic fields, but it also reduces our seed variety. If you take this to a pessimistic conclusion, GM seeds could cross-pollinate all corn, soy, papaya, cotton, zucchini and more until there are no truly 'natural' varieties of these plants left. And where does that leave us when GM seeds inevitably fail because we can't fight the pests or weeds they are producing?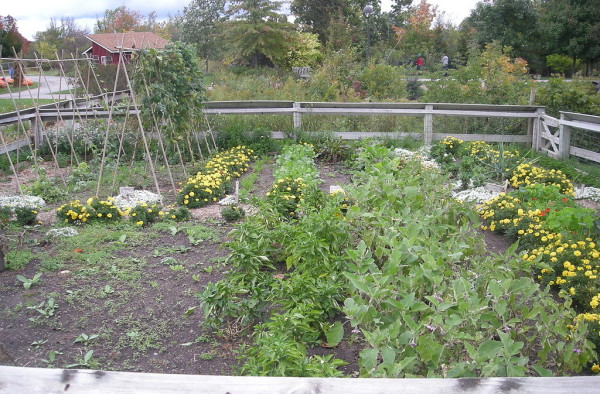 Shiva's organization Navdanya explains that saving seeds, 'is crucial now for our farmers, for the plant varieties and species that will otherwise be extinct, for the health of the land and ourselves.' Navdanya has set up community seed banks to protect the variety and nutrition of food plants for the future.
Here in the US, you can protect seeds in a few ways. As an eater, choose heirloom foods that are native to your region, and support farmers that grow these heirloom varieties. Support companies like Rancho Gordo that have built their business around heirloom varieties of products, and learn the stories behind the foods.
As a farmer or home gardener, choose heirloom seeds to grow in your garden. Try to set up a local seed bank to share these local seeds with other farmers, and to encourage crop variation across the nation. You can buy heirloom seeds from Seed Savers Exchange among others. Seed Savers has some great learning resources too, if you're new to seed saving.
Here are some other great heirloom seed resources from our archives:
Genuine Heirlooms are Seeds with Stories
Planning the Ultimate Heirloom Garden
Heirloom Bean Project
Why They're Called Heirloom Seeds, and Why You Want Them
Image Credits: 
Michael Barera [CC BY-SA 4.0, CC BY-SA 3.0 or GFDL], via Wikimedia Commons
Heirloom tomatoes image from mercedesfromtheeighties (Capay heirloom tomatoes at Slow Food Nation) [CC BY-SA 2.0], via Wikimedia Commons