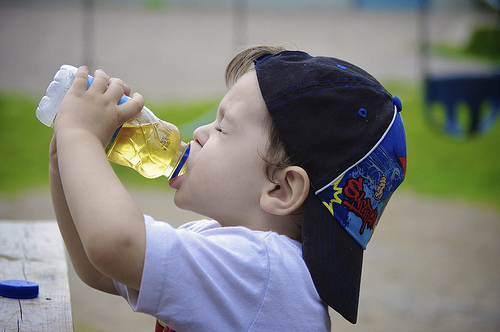 We talked not too long ago about Motts' campaign to get moms feeding their kids more apple juice. Now, they're at it again with new varieties that hide vegetable juice in each glass.
Here's a commercial for the new juice:
http://www.youtube.com/watch?v=bSSYwoG1_us
And here's the nutritional information for one of the "healthy" medleys from the Mott's website:
What strikes me about this juice is that it contains no fiber at all and has 22 grams of sugar. To put that in perspective, a can of Coke has 39 grams of sugar. When kids get used to sweet drinks, their palettes adjust, and it's going to be that much harder to get them to eat healthy fruits and veggies.
What do you think, moms and dads? Is a serving of vegetables hidden in sugar water the way to get more veggies into your kids' diets?
Kids and Veggies
If your kids aren't into eating their veggies, there are better ways to get them their nutrients than with sugary drinks. Kids are more likely to eat their veggies if they helped grow and harvest them. The same goes for cooking. Get them involved in the process! Kids will be much more excited to eat a dish they helped prepare.
If your kids really resist veggies, you can add them to food in other ways. Puree some greens into tomato sauce or mash some cauliflower into your mashed potatoes.
I'd love to hear from parents out there! What are some healthy ways you encourage your kids to eat their greens?
Image Credit: Creative Commons photo by purplegravity