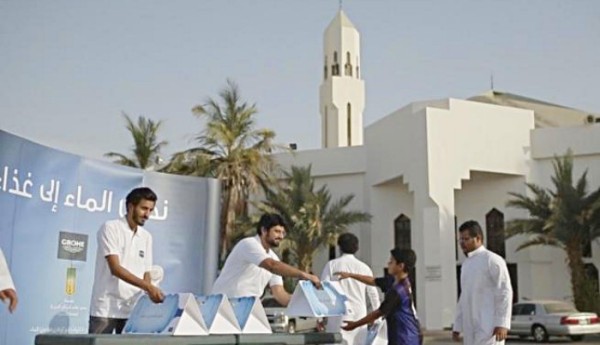 Converting water savings into food, GROHE is continuing its "Green Mosque" water conservation CSR initiative this year during Ramadan. The initiative, part of GROHE's global water conservation program 'Watercare,' is once again teaming up with the NGO Sharbatly Foundation, as it did in 2014.
Last year, the "Green Mosque" water conservation program saved the mosque 3,460 liters of water. Literally "turning water into food," this savings was converted into 346 boxes of food and distributed to needy families.
"The collaboration between GROHE and the Sharbatly Foundation proved to be highly successful and consequently we have decided to further our relationship," said Sayed Ibrahim Hassan Sharbatly, Vice President of the Board of Trustees at Hassan Abbas Sharbatly Foundation for Community Service.
Water Conservation in the World's Driest Regions
Building on the H. A. Sharbatly Foundation's Ramadan Food Distribution Program, GROHEand Sharbatly are increasing public awareness about water conservation while providing food for fasting worshippers. The "Turn Water Into Food" program is running throughout theIslamic holy month of Ramadan at mosques in the Kingdom of Saudi Arabia.
Antoine Khalife, Grohe VP for the Levant and Gulf said in a recent statement, "Grohe is on a global mission to help reduce average water consumption rates year on year; not only through our advanced product technologies but also through awareness campaigns to change mind-sets and habits."
Khalife continued, "These efforts are especially relevant in Saudi Arabia where the amount of fresh water consumption per capita is double that of the world's average; while at the same time being situated in one of the world's driest regions."
GROHE and the Green Mosque Initiative
With its motto, "the more you save, the more you enjoy," GROHE has been actively promoting its 'Green Mosque' initiative in the Middle East since 2009. Many recent water conservation plumbing upgrades donated by GROHE included at the historic Amr Ibn al As mosque in Cairo, Egypt, and the Ummayad Mosque in Damascus, Syria. In 2014, partnering with the H.A. Sharbatly Foundation, GROHE installed 40 environmentally-friendly self-closing faucets in the ablution rooms inside mosques run by Sharbatly.
GROHE, the world's leading German manufacturer of sanitary fittings, supports local communities wherever possible to increase awareness of water consumption and conservation possibilities across the region.
Sharbatly Foundation Food Distribution
"Together with the Sharbatly Foundation," said Grohe VP Khalife, "we hope to increase public awareness when it comes to water conservation techniques and to secure the future of this precious natural resource".
Throughout each year, the Hassan Abbas Sharbatly Foundation for Community Service prepares for their food distribution program, selecting the best catering vendors to provide food for fasting worshippers.  Daily throughout Ramadan, food is bought and over 64,000 meals are distributed in all of the mosques built by the Jeddah-based foundation, and also provided in both the Holy Mosque in Makkah and the Mosque of the Prophet Muhammad in Medina, Saudi Arabia.
"This holistic program," said VP Sharbatly, "created specifically to save natural resources but also provides food for the people in need, has two levels of success that reflects the true meaning of Ramadan and makes the program worthy."
Republished with permission from Eden Keeper