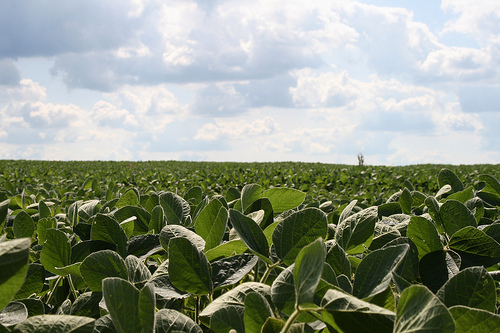 [social_buttons] Monsanto's new Vistive Gold soybeans lack omega-3 fatty acids. Omega-3 fatty acids are essential to the human body. They have been shown to improve cardiovascular function and assist in the development of the brain. Research indicates omega-3s could have anti-cancer properties, improve immune function in infants, and may reduce the chance of low birth weights among infants.
So why would Monsanto remove omega-3 fatty acids from their genetically modified soybeans?
The goal in genetically modifying the soybeans was to cut the saturated fat in half. Saturated fat has been linked to heart disease, so this is an admirable goal on the surface.
According to Micah Veihman of Monsanto (in the comment section), the Vistive Gold soybeans will be used primarily for partially hydrogenated soybean oil. When vegetable oils are partially hydrogenated, as they often are for commercial purposes and for adding to heart-healthy butter substitutes, many of the omega-3s are broken down anyway. The average farmer will be able to charge more for these soybeans, since they have less saturated fat.
So how will this affect the average person? Not much, really. The American Heart Association recommends less than 16 grams of saturated fat on a 2000 calorie diet. The average American consumes half again that.
A large order of fries at most fast food restaurants contains three or four grams of saturated fat; Vistive Gold soybean oil will reduce that amount to 1.5-2 grams. Most of the saturated fat we eat each day is in dairy products – the milk on your cereal in the morning (5 grams) or the cheese on the cheeseburger that you ordered with those fries – and meat, such as the hamburger in the cheeseburger (6-11 grams). Clearly, the way to reduce saturated fat is to reduce consumption of animal products.
So, besides the increase in price for this "healthier" partially hydrogenated soybean oil, barely a dent will be made in the average consumer's saturated fat intake and there will be fewer omega-3s.
Image Credit:  Creative Commons photo by jasonnippolito