Tired of the old standby Passover recipes?  Try something new this year.
The new cookbook, Modern Jewish Cooking, by Leah Koenig has inspired me. This year, I'm going to break away from the old standby brisket (I'm sorry, Nach Waxman) that I've been making for years, and I have Koenig to thank. One look at the cover of this beautiful new cookbook, with its enticing brown sugar citrus gravlax bite size nibbles, and I knew I was in for something special.
Related: Passover Guides for Environmentalists from Eden Keeper
With an entire chapter devoted to holiday menus, there are many choices in this book to help you take a new look at your Passover meal. Not content to narrowly rethink Passover, Koenig offers five Passover menus: Ashkenazi, Shepardi, vegetarian, a weeknight meal and Passover breakfast ideas. A great place to start is with Koenig's vegetarian main dish Passover recipe for Spinach-Matzo Lasagna.
1. Spinach-Matzo Lasagna Recipe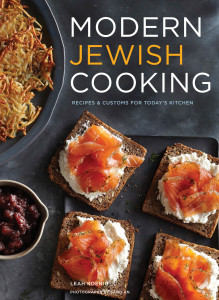 Over the last decade, matzo lasagna has quickly and emphatically entered the Passover mainstream. Its rise has partly to do with the need it fills for a substantive main dish to serve during the holiday's weeklong bread ban. The other reason for its popularity? It's delicious, and remarkably so. Softened matzo provides a convincingly noodle-like base for the rich ricotta and mozzarella, tangy marinara, and tender spinach threaded throughout the layers. I like to imagine that, fifty years from now, my future children and grandchildren will swear that Passover is not Passover without spinach-matzo lasagna. Yield: Serves 8 to 10
Ingredients
3 Tbsp extra virgin olive oil

2 large yellow onions, finely chopped

4 garlic cloves, finely chopped

5 oz/140 G baby spinach

4 cups/910 G full-fat or low-fat ricotta cheese

2 eggs, lightly beaten

2 cups/200 G grated mozzarella

1/4 cup/10 G roughly chopped fresh flat-leaf parsley

Kosher salt and freshly ground black pepper

9 sheets matzo

4 cup/960 ML good-quality marinara

1/2 cup/20 G grated parmesan
Instructions
1. Preheat the oven to 350°F/180°C.
2. Heat the olive oil in a medium pan set over medium heat. Add the onions and cook, stirring occasionally, until softened and lightly browned, 5 to 7 minutes. Add the garlic and spinach and cook, tossing with tongs, until the garlic is fragrant and the spinach wilts, about 2 minutes. Remove from the heat and set aside.
3. In a medium bowl, stir together the ricotta, eggs, 1/2 cup/50 g of the mozzarella, and the parsley. Season generously with salt and pepper and set aside.
4. Fill a shallow baking dish with water. Dip 3 sheets of the matzo in the water and let soften for 1 to 2 minutes. (Not longer—you want the pieces to feel soft, but not mushy or soggy. They should still hold their shape.) Spoon half of the marinara into the bottom of a 9-by-13-in/23-by-33-cm baking dish. Shake the excess water off of the softened matzo pieces and arrange in the baking dish, breaking the sheets as necessary to fit. Top with about half of the ricotta mixture, followed by half of the spinach mixture. Repeat with half of the remaining marinara, another 3 softened sheets of matzo, and the remaining ricotta and spinach mixtures.
5. Soften the remaining 3 sheets of matzo and arrange on top. Spoon the remaining marinara over the top, then sprinkle evenly with the remaining 1 1/2 cups/150 g mozzarella and the Parmesan.
6. Cover with aluminum foil and bake until heated through, about 45 minutes. Uncover and continue baking until the cheese is lightly browned, 10 to 15 minutes more. Let stand for a few minutes. Serve hot.
2. Not quite ready to skip the brisket?
There are other ways to update your Passover meal this year. Polenta with Sun-dried Tomato and Caper Tapenade, is a simple, no-fuss and unique appetizer for your Passover dinner. Polenta is a traditional Italian dish made from boiled cornmeal. It was a popular dish amongst Northern Italy's poor, as it was cheap and combined well with whatever other food was available. It's made much like cream of wheat or grits, but as it cools, it firms so that it can be fried, baked or grilled. The taste of polenta on its own isn't terribly exciting, but it absorbs the flavor of other foods quite well. This appetizer uses firm polenta topped with a pungent sun-dried tomato and caper tapenade, which combine to give a rich and filling dish.
3-4. Looking for flourless and gluten-free options?
Who knew that you could make delicious Passover Popovers without flour? These light, airy treats combine the best characteristics of popovers, muffins, and cream puffs. Bake them for your seder, and serve to rave reviews. Recipe courtesy of King Arthur Flour.
And, what would Passover be without Flourless Chocolate Cake? King Arthur Flour serves up a flourless chocolate cake featuring both chocolate and cocoa, that is rich, rich, RICH! A chocolate ganache glaze takes it over the top. And, since it contains neither flour nor leavening, it's perfect for Passover. And, of course, also ideal for those following a gluten-free diet.