Did you know that Mister Rogers was a vegetarian? It's true! He didn't talk about it directly on the show, but in one episode on healthy eating, he shows off some very 80s meat alternatives.
My son  – also a vegetarian – is almost three, and Mister Rogers is one of his favorite TV shows. After supper lately, he and his daddy have been snuggling down on the couch to watch an episode together, and one of my kid's favorites is about food. Of course it is. He's my kid!
Most of the episode is about orange juice, but there's also a really intriguing segment about health foods, which you can watch above. Since Mister Rogers was vegetarian, it makes sense that he would have been hip to veggie options. It's a really neat glimpse into what was available to vegans and vegetarians 30 years ago.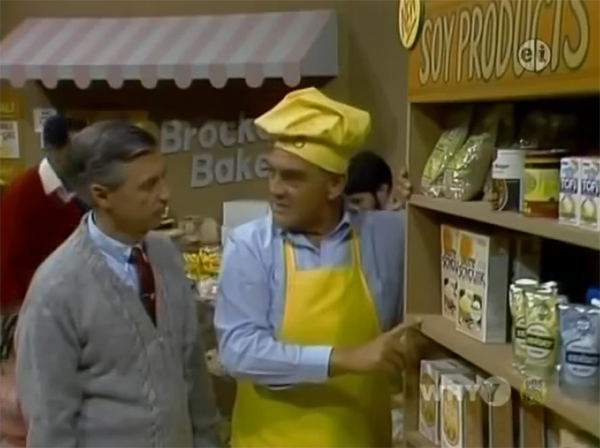 Chef Brockett shows him his selection of soy products. It is such a crazy reminder of how far plant-based foods have come since the mid-80s, when eating vegetarian or vegan was first starting to gain popularity. He shows off veggie burgers in a can, which I'm guessing are from Worthington, a company that was way ahead of its time. Founded in 1967, Worthington was making vegan and vegetarian products way before it was cool. 
One old-school vegan told me that powdered soy milk tasted nothing like milk, despite what Chef Brockett says. It apparently tasted more like a nightmare. Any other long-time vegans want to weigh in on that one?
Thirty years after Mister Rogers shared them on his show, soy foods – and other non-dairy foods – are so much tastier than powdered soy milk and soy flour pancakes. We have non-dairy milks made from soy, grains, nuts, and seeds that work like gangbusters in baking, coffee, and over cereal. Vegan mayos are so good that conventional mayo companies are getting shady to block their success. Even the tofu we have access to is more versatile than the silken tofu on Chef Brockett's shelf. And, of course, non-dairy cheese has come a long, long way, baby.
Have you seen this Mister Rogers segment before? What struck you about the little health foods tour that they took? I feel like I notice something new every time we watch it!
Image Credit: Screenshot from video