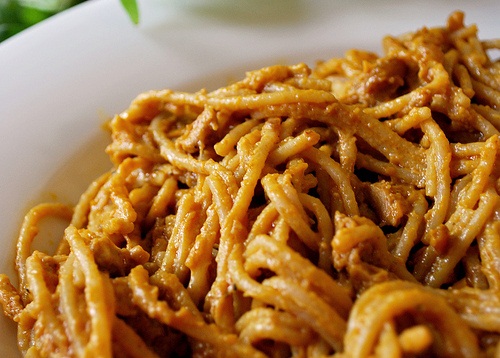 In response to my post on carrot miso pasta sauce, one reader wrote that she loved miso recipes  and would like to see more.  Well, here you go!
This nutty miso sauce is fantastic on just about anything. It makes a great dipping sauce for grilled tofu skewers and is also good tossed with pasta or roasted vegetables.
Last night I added miso sunflower seed sauce to mushrooms sauteed with garlic and shallots along with some roasted kale. I added a few spoonfuls of starchy pasta water to the mixture and then tossed it with whole-wheat spaghetti. Delicious!
Miso Sunflower Seed Sauce
Makes about 1 cup of sauce.
One 1-inch long piece of ginger, peeled and chopped into coins
1/4 cup light (white or yellow) miso
1/2 cup sunflower seed butter (aka 'sunbutter')
1 teaspoon soy sauce, or to taste
1/4-1/2 cup water
Add the first four ingredients and 1/4 cup of water to a food processor or blender. Puree until smooth. Add more water and puree again if the mixture is too thick. Serve immediately or store in a plastic container and refrigerate for up to three days.
Image courtesy of brianna.lehman via a Creative Commons license.