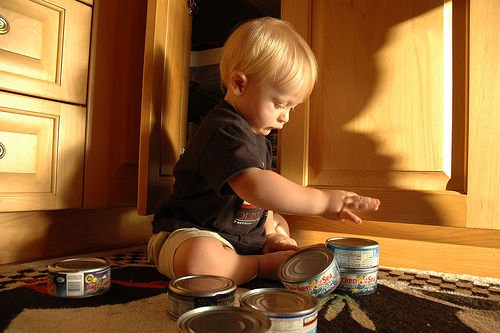 A recent study from Consumer Reports found measurable amounts of mercury in the canned tuna that it tested.
While "measurable amounts" is not the same as "dangerous amounts," with toxins like mercury that build up in the body, you have to look at the amount of tuna you're consuming over time. They're recommending that children and women of childbearing age limit or cut out consumption of canned white tuna. Canned light tuna contained a bit less of the heavy metal.
According to Civil Eats:

Every sample contained measurable levels of mercury, ranging from 0.018 to 0.774 parts per million (ppm). The FDA can take legal action to pull products containing 1 ppm or more from the market. (It never has, according to an FDA spokesman.)
Samples of white tuna had 0.217 to 0.774 ppm of mercury and averaged 0.427 ppm. By eating 2.5 ounces (about half a can) of any of the tested samples, a woman of childbearing age would exceed the daily mercury intake that EPA considers safe.
Samples of light tuna had 0.018 to 0.176 ppm and averaged 0.071 ppm. At that average, a woman of childbearing age eating 2.5 ounces would get less than the EPA's limit, but for about half the tested samples, eating 5 ounces (about one can) would exceed the limit.
If you're going to eat seafood, there are fish that contain less mercury, though many fish become contaminated due to living in contaminated waters. According to the EPA, "nearly all fish and shellfish contain traces of mercury."
Between mercury contamination and the questionable safety of seafood coming out the Gulf due to the BP oil spill, maybe avoiding seafood all together is your best bet. What do you guys think?
Image Credit: Creative Commons photo by saaby