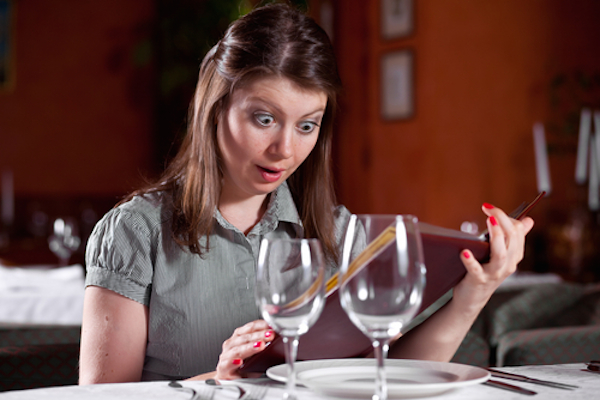 How many calories are in that burger you're about to order? Soon, it will be harder to ignore nutrition (or lack thereof) in the foods you order out. Menu labeling is on the way!
As outlined in the Affordable Care Act, the FDA just released guidelines for nutrition labeling of standard menu items in restaurants and other establishments. The regulations will apply to a lot of the food we order out, including:
Meals from sit‐down or quick service restaurants
Foods purchased at drive‐throughs
Take‐out foods, like pizza
Foods at salad, soup, or hot food bars
Foods designed for individual consumption, like made-to-order sandwiches, ordered from a menu or menu board at a grocery store or deli
Self-service foods designed for individual consumption, like ready-to-eat sandwiches, salads, muffins, bagels, and donuts
The new menu labeling rules apply to foods like popcorn, hotdogs, sandwiches, and pizza purchased at movie theaters, amusement parks, bowling alleys, cafeterias, convenience stores, and warehouse stores. They even apply to foods sold in vending machines.
As with nutrition labels on canned goods and other items we buy at the grocery store, the new menu labeling regulations require the declaration of calories, fats (including trans fat), cholesterol, sodium, carbs, fiber, sugars, and protein. Chain restaurants and similar establishments will have one year to comply with the new rules. Vending machine operators will have two years.
This is great news and important progress in the fight against obesity and associated diseases. More than one-third of U.S. adults are obese as are 17% of U.S. children. And a third of the calories we consume comes from food prepared outside our homes. These regulations are intended to provide clear, consistent nutrition information, so consumers can make better-informed, healthier choices. Hurray for food transparency!
BUT… And this is important. The new regulations apply only to establishments that are "part of a chain with 20 or more locations doing business under the same name and offering for sale substantially the same menu items." So chains with fewer than 20 locations are exempt. AND, companies can change the names of their restaurants to escape the new labeling regulations. I see that as a big loophole.
You have until December 31st to comment on the proposed regulations. Read the details, comments, and FDA responses in the Federal Register. What do you think of this news?
Image Credit: Surprised Restaurant Patron via Shutterstock