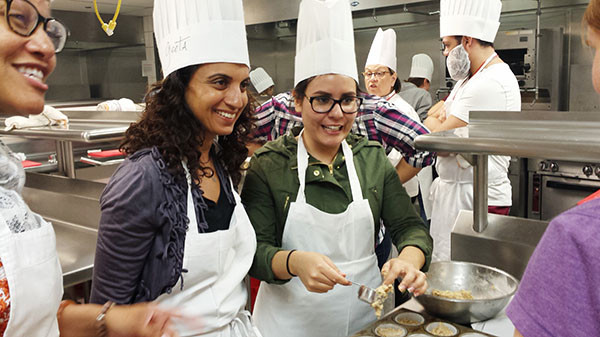 Hippocrates said, "Let food be thy medicine," more than 2000 years ago, and it looks like some medical schools are finally heeding his advice.
Most medical students receive an average of 24 hours of nutrition training, some as little as two hours. Only 30 percent of medical schools even require that students take nutrition courses. Cardiologist Stephen Devries told NPR, "I did a four-year, extra-intensive training program in cardiology and didn't receive one minute of training in nutrition."
The link between diet and health is undeniable, yet schools – including University of Chicago – are hesitant to require hands-on nutrition training in their programs. That was frustrating for some students, so a group of Chicago med students decided to create a course for themselves after residency.
Doctors Nutrition Training in Chicago, New Orleans
A group of  med students from the University of Chicago are bucking that trend.  The pilot culinary medicine course launched this spring thanks to the work of Dr. Sonia Oyola and Dr. Geeta Maker-Clark, two University of Chicago Medical School graduates.
The four-week, grant-funded class is modeled after a similar course at Tulane University in New Orleans. At Tulane, this course is required. At Chicago – at least for now – it's a zero-credit course that med students can take voluntarily.
Chicago students start the course with a lecture on diet-related illness followed by actual hands-on cooking classes. When these students graduate, they'll be able to do more than just casually mention to patients that they should eat less animal protein or include more plant-based foods in their diets. They'll be able to counsel patients on how to prepare healthier foods based on science-based nutrition training.
Chicago and New Orleans aren't the only places where medical students are finally getting practical nutrition education. Dr. Devries – the cardiologist who never received nutrition training in school – actually left cardiology to found The Gapes Institute, an advocacy organization pushing for nutrition education in medicine, especially cardiology. Their website has resources for the public and for health professionals to learn more about letting food be their medicine.
University of Arizona's Integrative Medicine Fellowship also includes nutrition training for health professionals.
Dr. Maker-Clark didn't receive her culinary nutrition education at med school. She told NPR, "This training was something that I pursued on my own after I graduated from residency. I really received none of that kind of nutritional information during medical school." She's working hard through this pilot program to change that for future medical students and hopes that one day classes like this will be part of all med student training.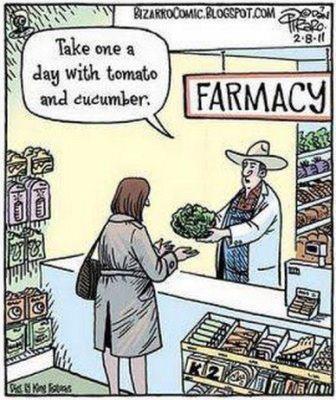 Image credits: Top image via NPR, doctors nutrition image via Shutterstock, Farmacy cartoon via Reboot with Joe