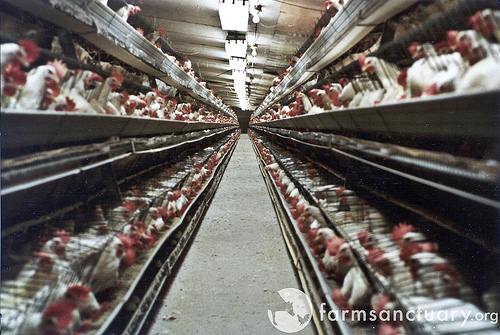 New Analysis Documents Over $615,000 in PAC Contributions to House Appropriations Committee Members in Last Decade
Washington, D.C. — A new Food & Water Watch analysis found that meatpacker and poultry industry PACs gave $615,305 to House Appropriations Committee members between the 2000 and 2010 election cycles. The Appropriations Committee received nearly one-fifth (18.4 percent) of all meatpacker and poultry industry donations to the 112th Congress over the period, according to an analysis of data from the Center for Responsive Politics. Jack Kingston (R-Georgia), Chairman of the Agriculture, Rural Development, Food and Drug Administration, and Related Agencies Subcommittee, received $143,000 – nearly a quarter of all the donations to the Appropriations Committee.
The full Appropriations Committee today is likely to vote for a 2012 appropriations measure that undermines the federal government's ability to protect consumers from unsafe food and postpones rules to protect farmers from unfair practices by meatpacker and poultry companies. The meatpacker and poultry industry have been actively lobbying for both measures.
"Over the past decade, the meatpacker and poultry industry have given over $3.3 million to current members of Congress – 65% to the Republicans that are pushing a radical deregulatory agenda that threatens consumers and farmers," said Food & Water Watch executive director Wenonah Hauter. "Today, money will triumph over the public interest as the committee approves a budget that would water down food safety rules and allow the meatpacker monopoly to run roughshod over American farmers."
More on the appropriations bill being marked up by the House Appropriations Committee today:
Food Safety:
The committee bill cuts U.S. Department of Agriculture's Food Safety and Inspection Service by 3.6 percent from the current budget. While making this cut, the subcommittee managed to promote two programs that are detrimental to the function of FSIS' meat and poultry inspection program. The subcommittee maintained funding for a new computer system, the Public Health Inspection System, which is proving to be unworkable in the field. It also expands a controversial pilot program called the HACCP-based Inspection Models Pilot program in poultry plants. This is a blatant attempt to reduce the number of FSIS inspectors by allowing more industry self-inspection.
The Food and Drug Administration's Center for Food Safety and Applied Nutrition budget was cut by 4.5 percent from this year's budget. This will make it difficult for the agency to meet the new implementation and inspection duties it has under the newly passed FDA Food Safety Modernization Act.
Livestock Marketing:
The bill passed by the subcommittee would prevent USDA from finalizing much-anticipated livestock marketing rules that would protect farmers from abusive practices by big meatpackers and poultry companies and help ensure there are fair markets for farmers to sell their hogs and cattle. These rules are long overdue — USDA proposed the rule last June to implement provisions of the three year old farm bill to provide necessary guidance to enforce the nearly century-old Packers & Stockyards Act.
"Now the House is trying to sabotage these rules just like they sidelined mandatory country of origin labeling, which was delayed six years through similar cuts," said Hauter.
Food & Water Watch works to ensure the food, water and fish we consume is safe, accessible and sustainable. So we can all enjoy and trust in what we eat and drink, we help people take charge of where their food comes from, keep clean, affordable, public tap water flowing freely to our homes, protect the environmental quality of oceans, force government to do its job protecting citizens, and educate about the importance of keeping shared resources under public control.
Image Credit: Creative Commons photo via Farm Sanctuary