Refugees in Syria and the surrounding countries are struggling to survive in harsh conditions. Most of their food consists of Meals Ready to Eat (MREs).
MREs aren't known for being particularly tasty, but one company is trying to change that. Saahtain Foods is now producing meals branded Tayyib. Tayyib MREs are 100 percent Halal and made with seasonings and ingredients that these families are used to. They're mass-producing comfort food for people who need it.
Aisha Abdelhamid at our sister site Eden Keeper wrote an in-depth feature on how these MREs are changing lives for refugees in Syria. You can read it below.
---
Halal MREs Offer Comfort Food to Syrian Refugees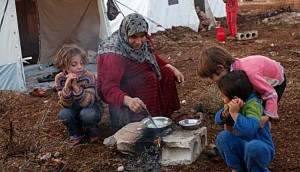 by Aisha Abdelhamid, Eden Keeper. Syndicated with permission.
This will be the third winter for about 2.8 million registered Syrian refugees, including over 1.4 million children. These refugee families live in lightweight tents in subzero temperatures, and nutritional food is among their highest priorities.
Zahra Mahmood, Director of Saahtain Foods, spoke recently about the urgent need refugees face regarding food. "Food gives the refugees energy to fight disease and gather material to burn to keep warm," she said. Noting the dire case of refugees in Jordan and Lebanon, Director Zahra explained, "Water supplies are strained in Jordan and Lebanon and people can't cook due to damp and cold conditions."
Supplying Comfort Food in MREs
Supplying comfort food in a Ready to Eat Meal, the Tayyib brand of Meals Ready to Eat (MREs) produced by Saahtain Foods are 100% Halal, 100% Natural, and are highly nutritional meals. They are also meals that the refugee families are accustomed to eating, with familiar ingredients, and seasoned with appreciation for localized taste preferences. "Halal" is the arabic word for "acceptable" food, according to Islam's dietary requirements for Muslims, as revealed in the Holy Quran.
Especially effective for humanitarian and disaster relief, Tayyib Ready to Eat Meals are designed to last for 2 years in their strong four-layer pouches. Specially manufactured in the UAE, the MREs are additionally appreciated by the beneficiaries because they don't require cooking, and there are no special requirements for storing the meals.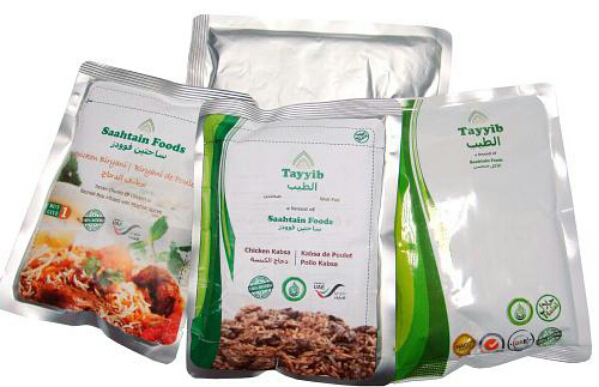 Feeding 30,000 People Affordably and Effectively
Based in the UAE, Saahtain Foods is the region's first company producing 100% Halal, 100% Natural, highly nutritional MREs in pouches using NASA technology to preserve the food.
Lately supplying these specially designed MRE meals in pouches, Saahtain Foods has assisted in feeding 30,000 people in need. Director Zahra points out the advantage her company offers, "An affordable, complete and effective solution is our Tayyib Ready to Eat Meal."
Corporate Social Responsibility Initiatives
Companies often like to "give back" to the community by donating a portion of their profit in support of humanitarian and philanthropic programs. As a part of its own Corporate Social Responsibility initiative, Saahtain Foods gave 15,000 Meals Ready to Eat (MREs) to the UAE Red Crescent. In addition, 10,000 MREs are being sent on behalf of a leading UK charity to Turkey for the Syrian refugees.
In another Corporate Social Responsibility initiative, Darvesh Group is supporting the "Tarahamu," or "Show Compassion" humanitarian relief campaign in the UAE. The Darvesh Group added to the UAE Red Crescent's supply of MREs by donating a further 5,000 Tayyib Meals from Saahtain Foods.
Mr. Darvesh, Chairman of Darvesh Group said: "Feeding people in remote areas has been made possible by Tayyib Meals and we will carry on using these meals when we do our CSR initiative when feeding the needy."
The Growing Humanitarian Hub in Dubai, UAE
The UAE Red Crescent thanked Saahtain Foods for this unique innovation in support of global humanitarian, emergency and relief agencies, organizations, and efforts. Mubarak Hamad Al Junaibi, a UAE Red Crescent relief team leader, said the Tarahamu effort is continuing to make progress. He explained that distribution of winter essentials, such as blankets, heaters, and food, were being conducted by four teams making four daily rounds to reach some 4,000 families per day.
In support of the International Humanitarian City's 2015-2021 strategy of change and innovation, the UAE is working to turn Dubai into an internationally recognized hub for the humanitarian world.
Image Credits: Syrian refugee family in camp via Syria Freedom, Lost Children via Syria Freedom, Tayyib MREs, from Saahtain Foods