There's a new fast food chain in town — LYFE Kitchen — and it may revolutionize fast food. Just don't use the "H" word.
You don't have to be a rocket scientist to know that McDonalds and Burger King aren't serving up healthy fast food. Nor are they establishments you can feel good about supporting with their industrial farming and low worker wages.  Even the feel-good chains like Chipotle or In N' Out are challenged when it comes to serving healthy fast food. These mavericks embrace sustainability, workers rights and business philosophies you can generally feel good about. But, truth be told, even the "best" chains aren't producing healthy fast food. That may be about to change. Introducing LYFE Kitchen, a new fast food chain that promises to allow you to "Eat good. Feel good. Do good."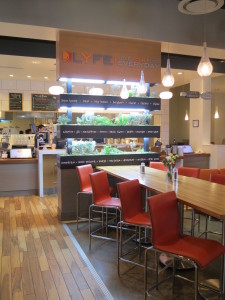 If LYFE Kitchen the real deal? According to a Fortune magazine article, Can LYFE Kitchen out-Chipotle Chipotle?, most meals people eat at Chipotle are not actually "healthy." While the food at Chipotle may be made with antibiotic-free and hormone-free beef, they come with super high calorie counts, huge amounts of saturated fat, and more than a day's allotment of sodium.
Enter LYFE Kitchen. Created by a couple of McDonald's veterans, it strives to be fast food with a conscious that is also good for you. Says Mike Donahue, LYFE's co-founder and Chief Brand Officer, in Fortune article:
"Our people are so excited to tell you how healthy we are, that they scare customers away sometimes. I beg them to not use the H word."
According to QSR Magazine, an online trade newsletter for the quick service restaurant industry, healthy eating is a trend that is here to stay. But what constitutes "healthy" or even "good" is a moving target. Rita Negrete, senior editor at market research firm Technomic notes:
"There are people heavily into gluten-free, who care about [genetically modified organisms], who want low-fat or organic items, but there is no consensus about what is a healthy diet."
QSR also notes that consumer demand for better-for-you foods is high. The question remains whether what consumers want — or say they want — actually translates to changes on fast foods menus? QSR states that one in four Americans eats at a fast-food establishment each day—that's nearly 79 million consumers. And depending on how you define "fast food," that number could be even higher. Most consumers, however, don't believe food from these establishments is particularly nutritious. According to Gallup's 2013 Consumption Habits poll, 76% of American respondents find fast food to be "not too good" or "not good at all for you." That percentage hasn't changed since 2003, according to Gallup data.
With vegetarian and vegan, and gluten-free offerings, and actually nutritious menus along with a real eye toward the triple bottom line of people, planet and profit, LYFE Kitchen may be the wave of the future. However, I want to know how much the CEO makes.  In a a world where 52% of fast-food workers require some form of public assistance, if his salary is supersized like so many fast food chain CEOs, LYFE Kitchen may not be all its cracked up to be.
Photo: Mary Gerush