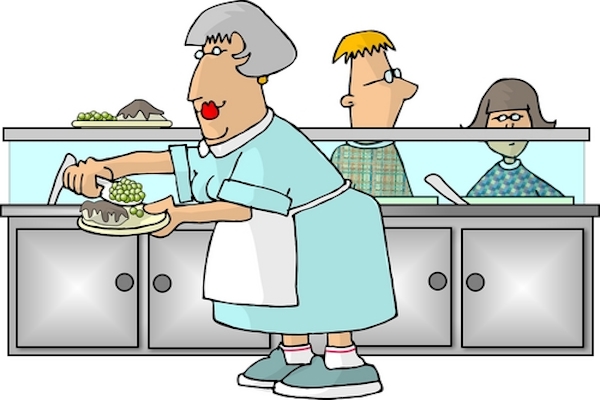 When my first children's book was published in 2001, I returned to my old elementary school to talk to the students about being an author and an illustrator, and when I was setting up my slide projector in the cafetorium, I looked across the room, and there she was: my old lunch lady.
So begins my favorite TED talk.
That lunch lady inspired children's book author Jarrett Krosoczka to start writing his Lunch Lady graphic novel series. Because, he says: "The lunch lady has not been treated very kindly in popular culture over time." The cleverly illustrated books feature spatula-wielding lunch ladies as heroes who battle evil cyborg substitute teachers and bake sale bandits, catching the bad guys with their hairnets. They serve justice… and lunch!
Think about it. We live in a world of processed foods and fried everything. We also live in a world where childhood obesity has become a serious problem. Those ladies (and gents) who work in school cafeterias are on the front line battling these issues — trying to feed our kids healthy meals that they will eat and enjoy. More than 30 million kids participate in school lunch programs every day. This is why they are heroes.
Mr. Krosoczka also teamed up with the School Nutrition Association to create School Lunch Hero Day — a day where kids could thank their cafeteria staff with handmade cards and artwork. You can see some of their creativity in Mr. K's TED talk slides. (Construction paper pizza alert!) May 1, 2015 is this year's School Lunch Hero Day. Spread the word.
Mr. Krosoczka's lunch lady, Jeannie, passed away. But not without knowing that her hard work over the years feeding and caring for school kids had been acknowledged.
Take 5 minutes to watch. It's a very sweet video. Then take time to thank the heroes who plan and prepare your kids' school meals. And if you have stories to tell about your kids' lunch ladies' heroic adventures, please share them with our readers.
Image Credit: Lunch Lady graphic via Shutterstock