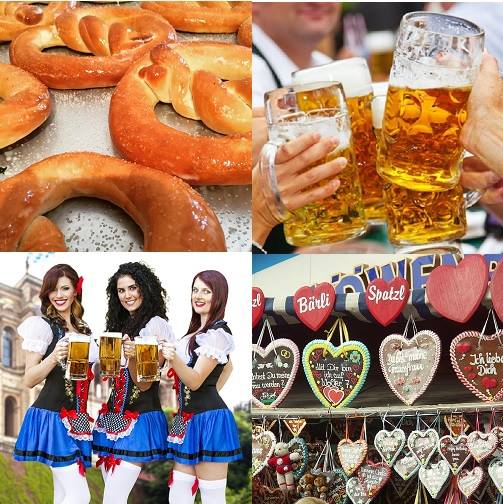 Los Angeles is home to the Vegan Beer and Food Festival, a Vegan Street Fair, and as counterintuitive as it may seem, the popular Vegan Oktoberfest, which runs next weekend, October 3-4. Now in its second year, Vegan Oktoberfest has vegans and non-vegans alike counting the days until the festival's doors open.
The vegan diet has come a long, long way in recent years. And nowhere is it more integrated in the U.S. than in Los Angeles. A city that prides itself on clean-eating and farmers markets in practically every neighborhood has also embraced meatless offerings, with fast-food veggie joints and fine dining vegan establishments earning the praises of the mainstream.
I caught up with one of Vegan Oktoberfest's founders, Jill Ryther, to talk about the festival, the vegan diet, and of course, vegan beer.
Jill Ettinger: How did the Vegan Oktoberfest idea come about?
Jill Ryther: There were two primary impulses behind Vegan Oktoberfest. First, we wanted to create the first event where vegans and vegetarians could experience a traditional Oktoberfest celebration, which until now was pretty impossible.
Second, we wanted to show non-vegans that a compassionate event doesn't mean a lack of great food, great beer, and great fun!  We wanted to shatter vegan stereotypes with one fantastic event, were there was something for everyone to enjoy!
JE: What makes a beer vegan in the first place?
JR: Most beers are vegan, however some are not.  There are some companies that use animal products either in the filtration process or in the beer itself.  For example, isinglass, gelatin, and bone char are some common animal ingredients.  Isinglass comes from fish bladder, gelatin comes from extracting collagen from the hides and bones of farm animals, and bone char is burnt bone.
Come on now, who wants that in their beer anyway?  Lucky for attendees of Vegan Oktoberfest, we have over 50 beers that are vegan and delicious!  Including Einstok's Icelantic Porter, Bell's special Oktoberfest brew and Angel City's Pilsner!
JE: Tell me about the food at the festival. German food doesn't typically conjure images of too many vegetables without meat. Can you have appropriate Oktoberfest-style food without the meat?
JR: Boy can we ever!  And I sincerely encourage you to come and try the food for yourself, because tasting is believing!
Vegan Oktoberest has every traditional Oktoberfest dish you could want, and more!  There is no shortages of brats and sausages, Bavarian pretzels, Sauerkraut Slaw, Potato Ale and Cheese soup, Apple Strudel, Gingerbread and German Cookies, German Choc Cake, Black Forest Cupcakes, Cronut Berliners, and the list goes on!
JE: Isn't veganism just a niche market? Are there enough vegans to make this a well-attended event?
JR: Last year proved that Veganism is not just a niche market.  Last's year's event sold out and was so popular that we had to expand to a two day event this year!  We also learned that it was both vegans and non-vegans that attended this event.  The food is amazing, the beer plentiful and the entertainment fantastic.  It truly is an event for everyone.
JE: What's the one thing about the festival you really want people to know?
JR: That Vegan Oktoberfest has some amazing features that no other Oktoberfests share. Along with traditional elements like stein holding contests, Oompah music, beer maidens, and lederhosen lads, Vegan Oktoberfest offers unlimited beer for one great price.
For more information and to order tickets, visit the Vegan Oktoberfest website.
Image courtesy of Vegan Oktoberfest