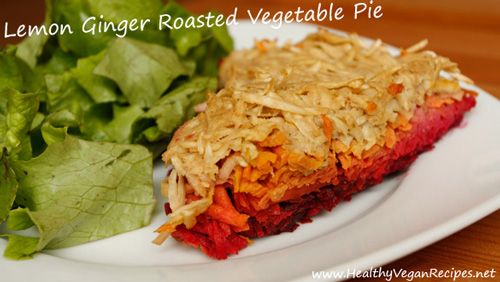 This lemon ginger roasted vegetable pie is an easy, fun and healthy dinner. If you want to see exactly how to make it, you can watch a free step-by-step video.
Of course, healthy vegan recipes are always better with a fantastic sauce, and this one uses a sunflower seed dressing base flavored with lemon and ginger.
This isn't the type of pie with a crust, it's vegetables made into a pie shape. It turned out so well with the beet, sweet potato and parsnip I used, but you can make this dish with any variety of veggies. Zucchini, carrots, celery root, jerusalem artichokes or any other grate-able vegetable would be perfect for this dish.
You could replace the lemon in the dressing with orange, which would also be amazing. You could also eat this dish raw (or dehydrated) if you use the right vegetables. Some, like sweet potato, aren't good to eat raw.
If you want to save some time, and/or get a slightly softer texture, you can lightly boil the vegetables before peeling and grating them.
What vegetables are you going to try? Let me know below.
Lemon-Ginger Roasted Vegetable Pie
Prep time: 15 min. Cooking Time: 40-50 minutes
Time from start to eating: 55-65 min.
Makes 4-6 servings.
Ingredients
2 Tbsp sunflower seed butter (or tahini or almond butter)
2 Tbsp lemon juice
1 small piece ginger, grated
2 Tbsp water
Sea salt or ume plum vinegar, to taste
1 large beet, peeled and grated
1 sweet potato, peeled and grated
2 parsnips, peeled and grated
Directions
Put the nut/seed butter and lemon juice in a small bowl or jar and whisk until they get very thick. Then add enough water to thin it out to a salad dressing consistency. This is the same base that I used in my tahini salad dressing, so if you want to see the technique check out that video. Squeeze the juice from the pulp of the grated ginger, and stir in enough salt or ume plum vinegar to bring the lemon and ginger flavors together.
Line a springform pan with parchment paper, and press the grated beet into the bottom then drizzle with some dressing. Next, layer the sweet potato and drizzle with dressing, and finally the parsnip. Make sure that the top layer of the vegetables get a good coating of dressing so that they don't dry out in the oven. If they dry out, they won't cook properly. You can cover the dish with a lid if you want, so that the veggies get steamed slightly as they cook and don't need as much dressing.
Put the dish in the oven at 300 degrees F for about 40-50 minutes, or until the veggies are soft.
I also topped it off with a pumpkin seed-kelp mixture from Christy Morgan's Blissful Bites cookbook. I threw in a bit of nutritional yeast this time too, and it was fantastic.
Image credit: Heather Nauta of HealthyVeganRecipes.net