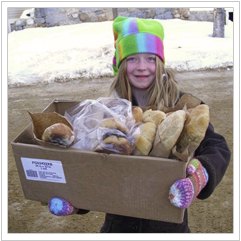 Apparently the folks at KAF will come to your school, teach your kids about baking and then donate the bread they make to people in need. All at no cost. I try not to use exclamations in my posts, but:  Wow!
From their site:
How does the program work?
The FREE Life Skills Bread Baking Program has reached more than 155,000 students nationwide since it began in 1992, providing kids with a fun, real-world application for skills they're already learning in school – math, science, reading, planning, problem solving, and more. And they get to use their new skill to help people in their community.
Here's how it works:
Teaching to an audience of students in grades 4, 5, 6, and/or 7, a King Arthur Flour instructor and two student assistants present a 50-minute demonstration on the bread baking process. Then, each future baker takes home materials, including our nutritious whole-grain flour, and the know-how to get baking! Students bake two delicious loaves – one to enjoy, the other for donation to a community organization chosen by the school. King Arthur Flour brings this exciting program to schools FREE of charge.
Want to HOST a Life Skills Bread Baking Program ?
Obtain approval from your school administration/faculty to host our program
Submit the required Life Skills application »
Select and confirm a local organization to receive bread donations
Reserve/confirm assembly date, location, time(s), and participating students
Coordinate audio/video requirements
Submit completed media form »
Photo courtesy of King Arthur Flour.