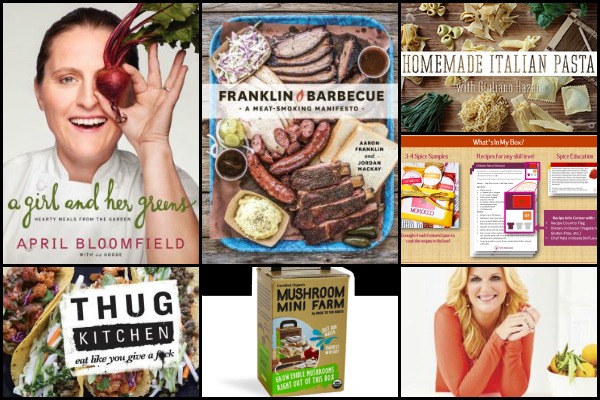 Haven't found the perfect gift for your foodie mom yet? It's not too late! I've got some perfect last minute, easy-to-buy mother's day gift ideas for you! (And you won't have to pay a premium for rush shipping.)
For the Mom Who's Fond of Funghi
Back to the Roots has created a Mushroom Farm just perfect for your mom's kitchen counter. A small box contains soil mix made from all organic recycled waste including corn cob and sawdust. It also has starter material that yields gourmet Pearl Oyster mushrooms. From a box. On your counter! Just tear off some cardboard, mist twice a day, and place it in indirect sunlight with a bit of fresh air. In 10 to 15 days, your mom will be able to harvest 'shrooms for her salad or stew. With a little patience, she can even get a second harvest.
Back to the Roots' original Mushroom Farm is only available online (I think), but they've created a Mushroom Mini Farm that's available nationwide at Whole Foods Market, Home Depot, and Fresh Market. And for less than $15, why not get your mom a couple? She deserves it.
For More Information: Back to the Roots Mushroom Mini Farm
For the Mom Who Loves to Learn
It's not too late to give your mom the gift of knowledge. Craftsy is an online school with courses crafts, art, photography, home decor, and — you guessed it — cooking! Does mom want to learn how to make fresh pasta? Giuliano Hazan, son of famed Italian cookbook author Marcella Hazan, can teach her in his Homemade Pasta Class for $19.99. Handmade sourdough bread? There's a class for that too — as well as courses for baking, sauces, and regional cooking techniques. 174 cooking courses in all, ranging in price from $14.99 to $39.99 — and many are now on sale.
It's simple to give a class as a gift. Just add one to your cart, and when you check out, you'll have the option to give the course to someone else on a particular date. I've tried the course on cheesemaking, and it was professionally produced and extremely valuable. Highly recommend.
For More Information: Craftsy's Baking and Cooking Courses
For the Mom Who Wants to Travel the World One Bite at a Time
I came across this product at a recent sustainable food event in Dallas. Buy your mom a subscription to Spice Madam, and she'll receive a box of curated spice and ingredient kits from different cultures every month. Each box highlights a different country and contains 3 or 4 spice samples, recipes, and information about the ingredients and the regional culture. Every month will be a different adventure, and at $20 per box (with discounts for longer subscriptions), it's much less expensive and time-consuming than it would be to track down regional recipes and ingredients yourself.
My first box whisked me away to Colombia, containing small packets of guasca, masarepa, sazon goya, and achiote. The recipes? Ajiaco (which is a Chicken Corn and Potato Soup), Arroz Amarillo, Papas Rellenas Colombianas, and Arepas. Love this concept. And I'm sure your mom will too! Just add the gift to your cart, and you'll be able to specify the date you want your gift message sent or print a gift card to give her in person.
For More Information: Spice Madam
For the Mom Who Loves a Good Cookbook
Flipping through the pages of a well-written cookbook is heaven to me (hint, hint, Jon). So if you're looking for a super gift for mom that should be easy to find at your local bookstore, here are a few recent releases I'm sure she will enjoy…
For the Mom Crazy for Vegetables
April Bloomfield is known for her nose-to-tail approach to cooking meat. But she's also partial to vegetables and fresh-from-the-garden fare. A Girl and Her Greens: Hearty Meals from the Garden is the follow-up to her popular cookbook, A Girl and Her Pig. If pig ain't your mom's thing, but peas, pesto, and potatoes are, this cookbook may be just the ticket.
For the Mom Who Adores Smoked Meat
Austin superchef (and new James Beard Award Winner!) Aaron Franklin just released his barbecue bible: Franklin Barbecue: A Meat-Smoking Manifesto. His restaurant in Austin is wildly popular, and if your mom is a fan of all things meaty and smokey, she'll love to learn from the country's most celebrated pitmaster of this top spot.
For the Mom Who Always Wanted to be a Country Singer
Country music singer and Food Network star Trisha Yearwood grew up eating the rich, greasy foods most Southerners did. Since then, she says she has adopted an 80/20 rule, making good selections most of the time but allowing herself to splurge a little. Her recipes are down-to-earth and balanced. If this describes your mom, she might like a copy of Trisha's Table: My Feel-Good Favorites for a Balanced Life.
For the Rebel Mom
Thug Kitchen: The Official Cookbook: Eat Like You Give a F*ck will suit your irreverent mom perfectly. Believing other cookbooks to be rather dull, the folks at the Thug Kitchen website designed this to teach you how to kick ass in the kitchen. This one is on the top of my list.
So if you've procrastinated buying a present for your foodie mom and are looking for some good options, I hope these mother's day gift ideas hit the spot!
Happy Mother's Day to all moms, stepmoms, and foster moms. You're the best!
Image Credits: Barnes & Noble, Back to the Roots, Spice Madam, Craftsy