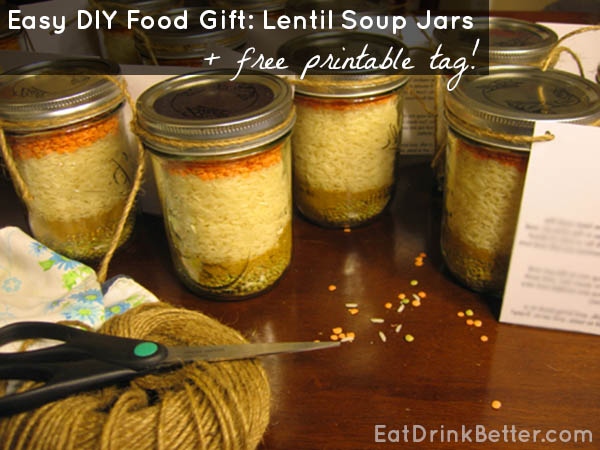 This lentil soup mix was such a hit the first year that I gave it out, that I've used it as gifts a few times since. It's simple to make a big batch, so these jars are a great last-minute gift idea, too.
I love homemade food gifts around the holidays. Most of the folks on my holiday list have so much stuff already. They don't need yet another thing to store. Or to discreetly donate to Goodwill. Homemade food gifts can be labor-intensive, but this one comes together really quickly. And if you need a bunch of last-minute giftss you can put together a dozen of these assembly-line style.
This last-minute gift idea is part of Important Media's More Love Less Stuff holiday event. We want to redefine the holidays to focus less on material things this year.
Curried lentil soup mix in a mason jar is a healthy food gift. You can put these jars together in a flash, and your recipient gets an easy-to-make pot of soup for a busy winter evening. All that's left after they use their soup mixes are empty mason jars, and what cook can't use a spare mason jar for plastic-free food storage, right?
Lentil Soup Mix Recipe
The recipe below makes one jar, but if you need a last-minute gift idea for more than one person, just multiply all of the ingredients to make as many as you need.. I've made these as a one-off and made a dozen at a time.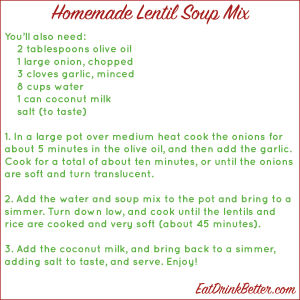 Ingredients and Supplies
– pint-sized mason jar
– 1/2 cup organic green lentils
– Spice Mixture (recipe below)
– 1 cup organic jasmine or basmati rice
– enough organic red lentils to fill the jar the rest of the way
– our Printable Gift Tag – If you make more than one, you don't have to print one per page. Tile this image in a word processing program. You can fit at least 4 on a page.
Directions
1. Layer the ingredients in your jar. Think of this as making one of those sand art bottles you probably did as a child. Green lentils go on the bottom, then the spice mixture, then the rice, then the red lentils.
2. Print out your gift tag with the instructions, punch a hole, and tie it to the jar. Boom! Pow!
Spice Mixture
This makes enough for one jar. Like the lentil mix, you can multiply the amounts to make as many of these as you need.
Ingredients
– 1/2 teaspoon tumeric
– 3/4 teaspoon ground cardamom
– 1/4 teaspoon cinnamon
– 1/4 teaspoon cloves
– 1/4 teaspoon freshly ground pepper
– 1/8 teaspoon ground nutmeg
Directions
Combine the ingredients in a small bowl.