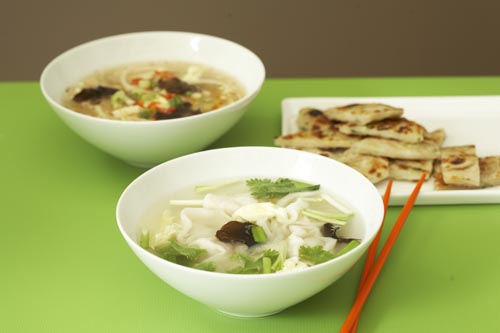 Foumami is a new Boston-based Asian sandwich bar that focuses on healthy, healing foods. Foumami's philosophy is making healthful eating simple and more accessible for on-the-go diners. Chef Michael Wang was kind enough to share a couple of recipes for the cafe's specialties with us!
Kumquat Tea
Yield: 12-13 cups
Ingredients
2 cups whole

kumquats (no need to slice or break apart)

1 whole

lemon (sliced into 1/4-inch pieces)

16 cups

water

Brown sugar and honey to taste
Cooking Directions
Place kumquats, lemon and water in a pot and boil on high heat. Once the water starts to boil, turn the heat to low and simmer for one hour (for best taste). The kumquats will have broken apart by the end of simmer time.
While the tea is still hot, stir in brown sugar and honey to desired sweetness. Make sure to stir well to melt all of the sugar and honey.
Serve hot in a cup (add a piece of kumquat in the cup as garnish), or let the tea cool down, chill, then serve on ice.
Soba Noodle Soup
Yield: 2 servings
Dashi (Japanese cooking stock)
Ingredients
3 large strips dried

kombu (kelp/large seaweed)

1 handful

bonito flakes (dried tuna flakes; can also replace these with additional dried shiitake mushrooms if desired)

4 cups cold

water

4 dried

shiitake mushrooms
Cooking Directions
Soak dried kombu and shiitake mushrooms in cold water (about 20 minutes), then heat to a boil. Take out the kombu and shiitake.
Add handful of the bonito flakes. Turn off heat and let everything sit for about 10 minutes. Then strain out the liquid (which is dashi); make sure to press out the dashi from the bonito flakes.
Soba Noodle Soup
Ingredients
4 cups

dashi stock from recipe above

2 tbs

soy sauce

1 tbs

mirin

2 tsp

sugar

Salt to taste

2 bundles 

dried soba noodles

 Togarashi pepper to taste
Cooking Directions
Add all ingredients except the noodles and pepper in a pot and bring to a boil.
To cook the noodles, simply place the dried soba noodles in cold water in a pot and boil (cook according to directions on soba packaging).
Place soba noodles in a bowl, pour soup over noodles, then top with desired vegetables and/or proteins. Sprinkle with togarashi pepper. You can also add any vegetables or proteins desired (e.g. tofu, scallions, shitake mushrooms from above, enoki mushrooms, nappa cabbage, carrots, etc.).