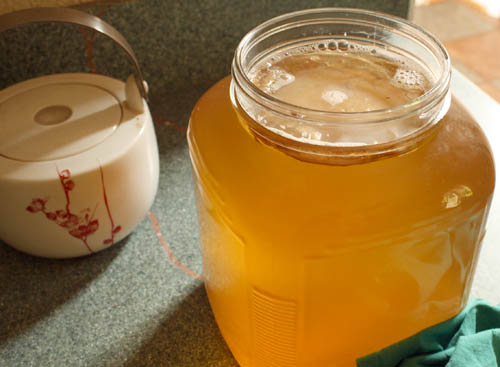 Kombucha tea is touted for its health benefits. In addition to being an alkaline beverage, it's rich in B vitamins and in vitamin C.
It's got a sort of tangy flavor and a little bit of carbonation. The taste almost reminds me of a super tangy lemonade, though it takes a little bit of getting used to.
Brewing your own kombucha is a bit of a time commitment, but with store bought bottles going for around $4 apiece, you can save a bundle by making it at home!

My pal Mike Lieberman was kind enough to send me a "scoby," which is the colony of beneficial bacteria that you need to start your kombucha. If you don't have a generous friend to help you out, a friend of mine from Folksy Brews recommended Gem Cultures for buying a starter.
I used Mike's kombucha recipe, and it came out wonderfully! He says to let it brew for 10-14 days, and mine tasted great after 11. To check if your kombucha is ready, just taste a bit of the liquid. It should have a nice, tangy flavor, and the scoby should be floating on top.
A serving of kombucha is quite small – just a couple of ounces. Don't drink too much, because it can upset your stomach. Two to three ounces once a day should really do the trick.
My scoby didn't reproduce, unfortunately, but they often will. An extra scoby means that you can share the kombucha love with someone else who wants to get started brewing!
Not feeling adventurous? Your local co-op or natural food store should stock ready made kombucha.
Have any of you guys tried your hand at brewing kombucha tea? We'd love to hear about it in the comments!