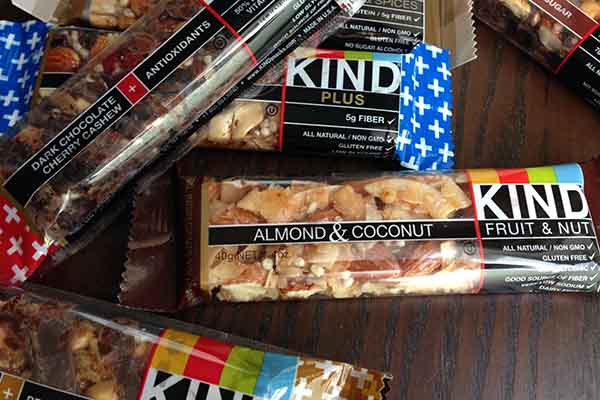 Ugh.  The bars we love to love  — KIND Bars — are not as healthy as we thought. 
The FDA has sent a warning letter to the maker of KIND bars saying that some of their products contain high levels of saturated fat despite being advertised as "healthy."
Are KIND Bars "healthy"? Not that long ago, our very own Becky Striepe wrote a KIND Bar review that pondered the same exact question. In that review, Becky noted that the trick to deciding whether a bar is a healthy snack is to read the ingredients list and looking at the label. Becky suggested looking for:
Weird chemical additives. Use your judgement here, but if there are ingredients that skeeve you out, that should throw up a flag for you.
How much sugar? Some snack bars try to limit how much sugar they contain. Others don't. If the amount of sugar is in the single digits, chances are you're on the right track.
How much salt? When companies don't use good ingredients, they use excess salt to make their foods taste more palatable. Look at the net weight of the product. For every 100g, there should be no more than 120mg of salt. That is the definition of a low-salt food.
Although Becky did not address the issue of how much saturated fat is reasonable in a "healthy," in the end, Becky concluded:
Even the more sugary KIND bars only have 1/2 to 2/3 the sugar of more common candy bars, plus KIND bars are GMO and high fructose corn syrup free. They're also made with actual dried fruit instead of fake dried fruit made of colored lumps of sugar (no, for real).
The Law Office of Ronald A. Marron, a San Diego, CA class action law firm, is currently investigating the following products:
KIND Fruit & Nut Almond & Apricot
KIND Fruit & Nut Almond & Coconut
KIND Plus Peanut Butter Dark Chocolate + Protein
KIND Plus Dark Chocolate Cherry Cashew + Antioxidants
If you have purchased certain KIND nutritional bars, you may be able to join a free class action lawsuit investigation.