Summer is coming. Are you planning on piling into the car for a road trip sometime in the next few months? I know that our summer road trips go a lot better when I'm packing some kid-friendly snacks. Luckily, The China Study Family Cookbook by Del Sroufe is loaded with portable snacks and other simple recipe ideas to keep the hanger away.
Related: 10 Sneakily Healthy Kid Snacks
The publishers were not only kind enough to let me share three complete recipes for kid-friendly snacks, but they're giving a copy of the book away to one lucky Eat Drink Better reader. Enter the giveaway, and get the recipe goodness below!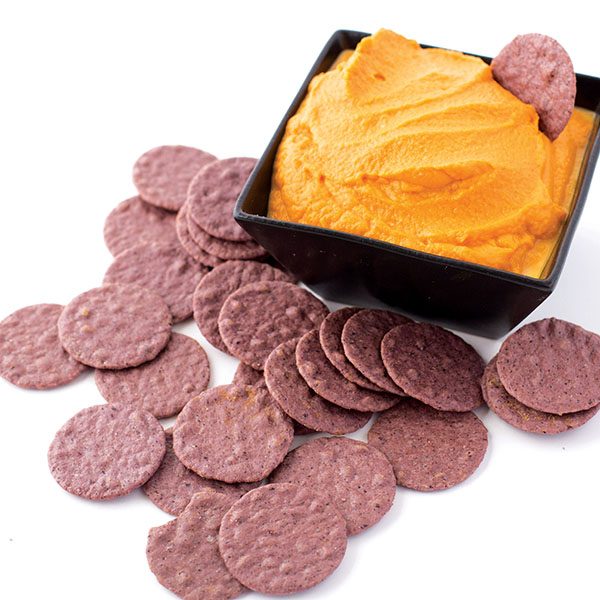 Sweet Potato Hummus
Making hummus at home is easy and far less expensive than buying it in a store, and it allows you to season it exactly the way you prefer. Having hummus on hand means the family can have a quick snack or an easy sandwich any time of day.
Ingredients
4 cups sweet potato puree
1/4 cup tahini
4 garlic cloves, peeled
3 tablespoons fresh lemon juice
1 teaspoon ground cumin
1 1/2 teaspoons sea salt
1/4 teaspoon cayenne pepper (optional)
Method
Combine all the ingredients in a food processor and puree until smooth and creamy. Store in an airtight container in the refrigerator for up to a week.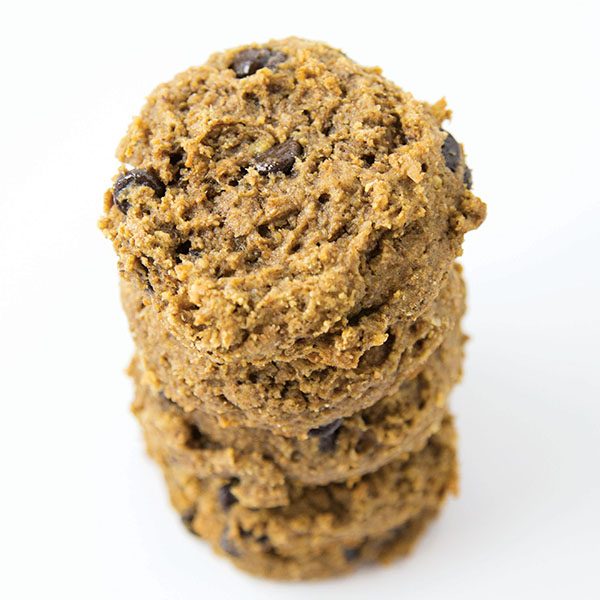 Chunky Monkey Cookies
I have loved chocolate and peanut butter together since I was a kid and ate my first candy bar with that combination. 
Makes about 16 cookies.
Ingredients
1 cup cooked or canned white beans
2 ripe bananas
2/3 cup creamy peanut butter
1 cup Date Puree (pitted dates pureed in a 1:1 ratio with water)
1 tablespoon pure vanilla extract
1 cup whole wheat pastry flour
2 teaspoons double-acting baking powder
1/2 teaspoon sea salt
1/2 cup vegan chocolate chips
Method
Preheat the oven to 350F.
Combine the beans, bananas, peanut butter, date puree, and vanilla in a food processor, and puree until smooth.
In a large mixing bowl, whisk together the flour, baking powder, and sea salt. Add the chocolate chips and mix well. Add the banana mixture to the flour mixture and gently fold together.
Using an ice cream scoop or 1/4 cup measure, shape the cookies and place them on a nonstick baking sheet. Press down on each one gently to flatten it.
Bake for about 12 minutes, until the cookies are slightly browned and firm to the touch.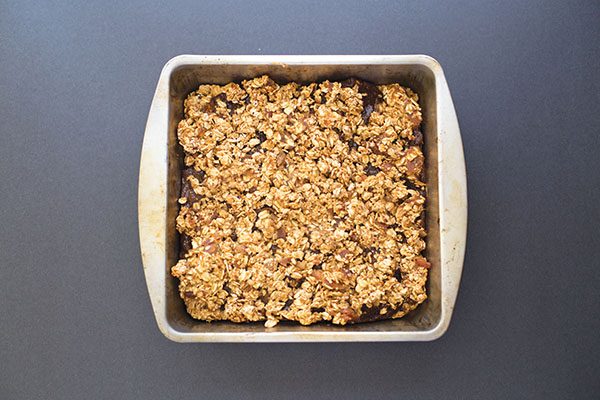 Oat and Apricot Bars
These fruit and grain bars are free of processed sugar and full of flavor. They make a great snack on the road when healthy options are hard to find, and they are also one of the least messy treats you can give the kids in the car.
Makes 9 bars.
Ingredients
3 cups rolled oats
1 1/2 cups chopped pitted dates
3/4 cup unsweetened applesauce
1 1/2 teaspoons pure vanilla extract (optional)
3/4 teaspoon ground cinnamon
1/4 teaspoon sea salt (optional)
1 1/2 cups dried unsulfured apricots
1 cup water or more, as needed
grated zest of 1/2 orange
Method
Preheat the oven to 350F.
Combine the oats, dates, applesauce, vanilla (if using), cinnamon, and sea salt (if using) in a food processor, and process until the mixture forms a cohesive ball. Remove the dough from the processor and press two-thirds of it into the bottom of a nonstick 9-inch square baking pan. Bake for 10 minutes, then set aside to cool for 10 minutes.
Meanwhile, combine the apricots, water, and orange zest in a small saucepan, and cook over medium-low heat until most of the water has evaporated and the apricots are tender, about 15 minutes. Transfer the apricots and any remaining water to the food processor and puree until smooth and creamy, 3 to 4 minutes.
Spread the apricot puree over the cooled crust. Crumble the remaining dough over the apricot puree and bake for another 10 minutes. Let cool to room temperature before cutting into 9 bars. Store in an airtight container in the refrigerator for up to 5 days.
All recipes and images reprinted with permission from The China Study Family Cookbook.