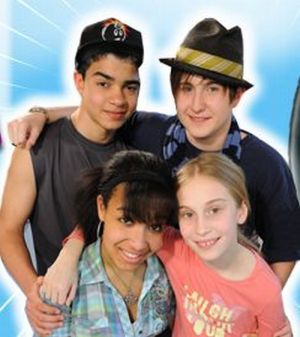 Kickin Kitchen TV has an ambitious mission – changing the world one meal at a time – and goes about effecting that change with humor and cooking lessons.
With kids these days (yeah, I said that. I guess I'm officially old.) so connected to the web, whether at home on their computers or out and about with their phones and tablets, the natural way to reach them is through digital media. Kickin Kitchen TV makes short fifteen to twenty minute webisodes in a sitcom format to present healthy eating strategies and teach basic cooking skills.
The show centers around four kids who film their own cooking show. The video below is one of their webisodes in which main character Reyna finds out chef Daniel Boulud will be watching her next show. She's a big fan of Chef Boulud and her nervousness and the nervousness of her best friend and co-star Stacy lead to the sort of hijinks and hilarity you would expect from a sitcom aimed at kids aged eight to fifteen.
At the beginning of the episode, Devon is "multi-tasking" – doing push-ups while eating a muffin. When I showed it to the group of twelve-year-olds who seem to have taken up residence in my living room this summer, they all had to try it, too.
The interactive website takes it further with a recipe exchange, user-generated content, original music, contests, games, and apps. The recipes from each episode are included on the site with detailed instructions. The episodes are supplemented with ten minute "nutrition bites" and "fitness fun" shorts.
You can find the recipe in this video at Kickin Chickens Vegetables.  (Two chickens are used in the recipe.)
http://vimeo.com/35661967
Kickin Kitchen TV cast photo courtesy of Kickin Kitchen TV