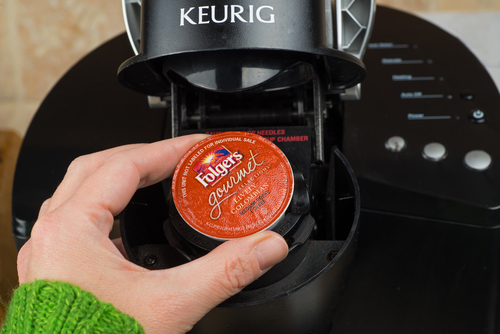 We all know the Keurig coffee maker, a single-serving coffee brewing system. They can be seen in corporate break rooms and auto dealerships around the country. But, awesome as they may seem, there are several problems with your little brown coffee maker.  I know you love it, but consider these Keurig Coffee Maker problems before you invest in one for your own kitchen or office.
K-Cups are terrible for the environment.
K-Cups create tons (literally) of waste. They hold a huge percentage of the coffee market and it's the second most popular coffee-making method in the United States (its estimated that 20 percent of adults now use K-Cups.) As a result they create mountains of plastic waste. In fact, in the article Your Coffee Pods' Dirty Secret, Mother Jones does the math and calculates that all of the K-Cups sold in 2013 would wrap around the Earth 10.5 times.
Currently only 5 percent of K-Cups are recyclable and consumers have been trying to get the company to improve K-cups's recyclability for years. Keurig, finally responding to consumer demand, has pledged that by 2020 all of their K-Cups will be recyclable, but is that really the best they can do? Many people think Keurig can and should do better. Jeff McIntire-Strasburg over at Sustainablog turned us on to this video about the details of K-Cup recycling and you can check out this petition demanding that Keurig make K-Cups fully recyclable now, not by 2020 as they pledged.
K-Cups cost a fortune.
When you do the math, K-cup pods price out at as much as $102 for a pound of coffee. The math is simple. A search of pods on my grocer's shelves found that pods contain for .35 to .99 ounces of coffee each. A scan of the Keurig.com online shop shows the prices per pod ranging form a low of $0.55/pod to $2.25/pod. So, one pod of their most expensive coffee (Green Mountain 100 Percent Kona Coffee) has .35 ounces of coffee and costs $2.25, which equals $102 a pound.
There are ways arond this. The folks at Squawkfox.com did their own math and found that you can save 61 percent by using a K-Cup reusable filter. Not only that, but it will cut down considerably on all that aforementioned waste. Or as they state so eloquently:
K-Cups are the new stupid tax. Not only are you over paying for ground coffee, but you're taxing the environment every time you pop a disposable pod into your brewer.
Pods and brewers have lots of defects.
If you've ever had a problem with your Keurig coffee maker you are probably not alone. There are currently 48 user discussion boards on Amazon.com each with a robust string of complaints. One of the most common complaints is how the machine dumps coffee grinds into the cup.  The folks at Cross Country Cafe noted in a blog post, Help, There are Coffee Grinds in My Mug!:
It always makes for a bad day when you reach for your favorite K-cup coffee, brew it up in your Keurig with immense anticipation, take the first heavenly sip and…instead of pure bliss, you taste bitter solids on your tongue. Yep we have all been there once, or twice it is a classic case of coffee grinds in the mug.
Chcek out their post for a nice hack to help the problem.
Another common probelm is little bits of plastic finding their way into your coffee cup. And, this isn't the most common problem according to Cross Country Cafe. That would be: My Keurig Brewed a Half Cup- Now What?!
K-Cups might be filled with old coffee.
One user on an Amazon discussion board flagged the issue of old and expired pods:
I received directly from [Keurig.com] a box of k-cups that was best-by Dec 2010, which it obviously already is. So instead of agreeing to replace the cups, [customer support] launched into a lecture about how they are fresh beyond the best-by date.
Even though expired coffee is not harmful, and I believe we should eat all sorts of food beyond the expiration date to mitigate food waste, it's disturbing for Keurig to admit that it puts those expiration dates on their pods merely as a marketing ploy.
The internal tank of the brewer is flawed.
Have you ever wondered how to drain/store your Keurig brewer? You are not alone. It turns out that once your Keurig coffee maker has been primed, you cannot empty the water from the inside and the internal tank of the brewer cannot be drained.
What to do if you want to drain your brewer, to say, store it or move it? Keurig recommends "rinsing the water reservoir with fresh water and running three cleansing brews without a K-Cup." Three cups of water wasted just to store your brewer? I suppose you could water some plants with the water despite the coffee residue, but that seems like a design flaw.
Photo: Shutterstock.com