Should Kelley O'Hara be advocating for chocolate milk as an athletic performance drink?
It's great to see female athletes gaining more recognition across all sports, and I love that Kelley O'Hara, a FIFA Women's World Cup champion and Olympic soccer gold medalist who plays as a wingback and midfielder for the United States Women's National Soccer Team, is making a big name for herself.
But Kelley, we have to talk about your ad campaign for the milk industry!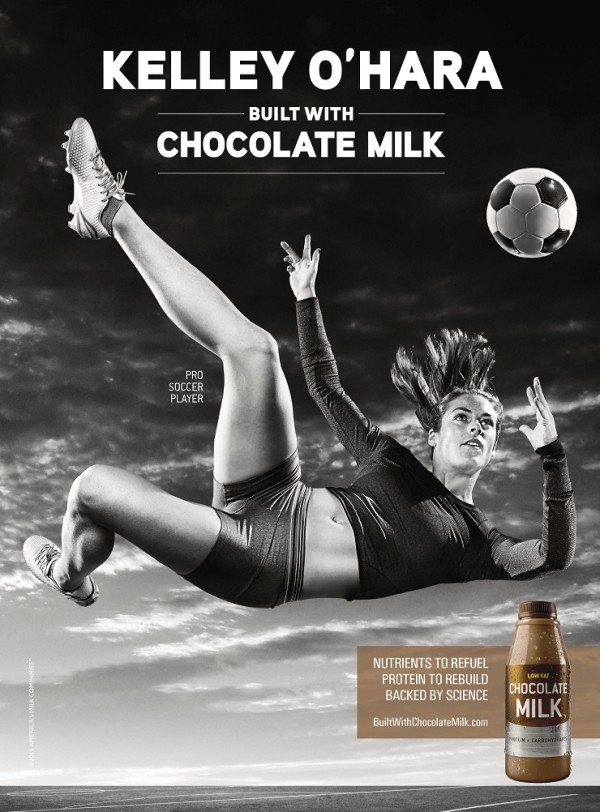 I'm stoked to see a fit and active soccer babe in an action shot, passionate about her sport of choice. But the idea that this superstar athlete refuels with chocolate milk is misguided and, I would even venture, an irresponsible ad campaign.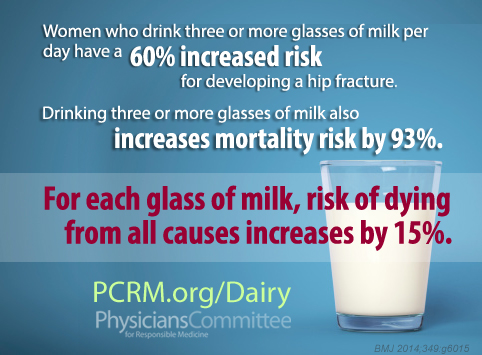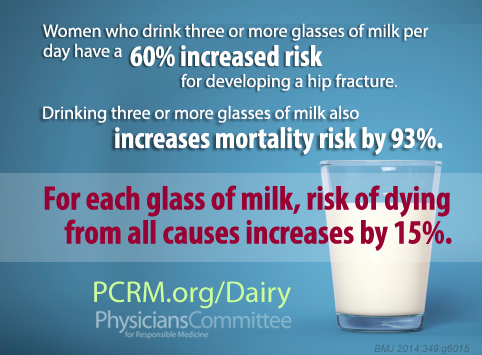 Chocolate milk is NOT a fuel food, for so many reasons. The text tells us that chocolate milk has 'nutrients to refuel, protein to rebuild,' but this is so vague as to be basically worthless. Yes, milk has protein and calcium, two major nutrients that athletes need, especially after a workout. But maybe Kelley doesn't know what the science really says about dairy consumption. Maybe we should tell her about the links between higher rates of cancer, diabetes, osteoporosis and obesity related to consumption of animal foods? And maybe she hasn't heard yet about rainforest destruction, the growth of antibiotic resistant bacteria, contaminated waterways and generally shitty environmental impact of animal foods? Mother Jones just wrote an in-depth expose about the dairy industry that explains this further.
Dairy foods are also linked to slower athletic performance and inflammation, which is something that all people– but especially athletes that work their bodies constantly– need to be concerned about. Maybe Kelley should talk to David Carter, the 300 pound vegan, about how a plant-based diet helped heal his body and improve his football performance.
Perhaps even more concerning is chocolate milk's sugar content, a big part of what makes it so addictive and delicious. The USDA itself calculates that chocolate milk averages about 24 grams of sugar per 1 cup/8 ounces. While the FDA and USDA don't make any daily value recommendations for sugar, the World Health Organization and the American Heart Association suggest that adults should have only about 25 grams TOTAL per day. That means that just one serving of chocolate milk tops off your suggested sugar consumption for the WHOLE day.


But what is perhaps most frustrating about this ad campaign is that this is a perfect example of what's known as the USDA checkoff programs The USDA (United States Department of Agriculture) has a dual mandate to promote both farming and health, which often leads to convoluted and misguided health advice for our country.
Checkoff Programs include money earmarked for promotion of certain foods, usually meat and dairy products. Some of the most recognizable campaigns of our lifetime have been funded by checkoff programs: Beef- It's What's for Dinner, The Incredible Edible Egg, Pork- The Other White Meat, and behind restaurant campaigns to increase cheese consumption. These ad campaigns are meant to increase the consumption of these foods– but simultaneously the USDA is encouraging us to change our dietary patterns to avoid these foods for health issues. Confused yet? It's a pretty messed up system– learn more about the USDA's Beef Checkoff Program here.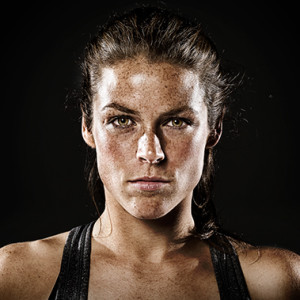 I feel strongly that it is the responsibility of spokespeople to do what's right for children and families, and skip the no-doubt-highly-lucrative sponsorship campaigns for sugar-laden dairy products destined to feed our nation's obesity and diabetes epidemic.
Sure, it's only one ad, but in a world of over-marketing, people like Kelley need to make better decisions. Maybe we could get Vega or Amazing Grass to support her instead?
So Kelley, I'm stoked you're making a name for yourself in the soccer world (and my friends were super bummed to miss your game on Sunday in Honolulu!), but I hope you'll reconsider your role as an advocate for the dairy industry!
If you agree, let's spread the word! Here's a sample tweet that you can share:
Chocolate milk is not healthy food, @kohara19. http://bit.ly/1RxZKnf #ditchthedairy #notmilk