Consumers are outraged that many of Kashi's "natural" products contain GMOs.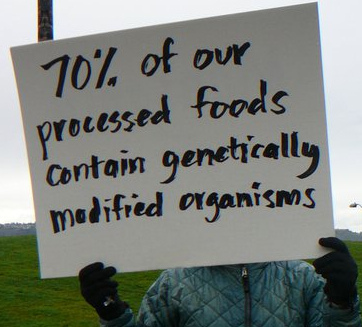 A friend of mine recently shared an image on Facebook from a grocer that pulled Kashi after discovering that their products contain GMOs. There's a lot of controversy surrounding GMOs in Kashi products right now, and I wanted to talk about it a bit here and see what you guys think.
Kashi makes all manner of processed grain products, and any time you're talking about grains or processed food, there's a good chance soy or corn is going to show up on the ingredients list. Here in the US, if that soy and corn is not organic or Non-GMO Certified, then it's more than likely genetically modified. Canola oil is also often GMO. If your goal is to cut GMOs from your diet, opting for certified organic or Non-GMO Project certified products is the way to go, especially if those products contain soy, corn, or canola oil.
Kashi also isn't the first company to take heat from consumers for labeling products "natural" while using GMO ingredients. Back in January, Frito Lay got sued for labeling their chips as all natural when they were made with GMO canola oil. They also aren't the only company making natural breakfast cereals that contain GMOs. The same grocer that I mentioned above also pulled natural Bear Naked cereals for containing GMOs:
Kashi does have some organic and Non-GMO Certified products, and if those are the ones that contain GMOs, then that's a whole different story. From what I'm seeing in a report from the Cornucopia Institute (pdf), the products in question from Kashi were not organic. They bore the "natural" label.
What does natural mean?
The problem here is that "natural" on a label means absolutely nothing. It's not a certification, it's a marketing term just like "fresh" or "new and improved."
So, did Kashi break the law by using GMO ingredients in their natural products? No. Did they greenwash their products and mislead consumers? Yes. In fact, that same Cornucopia Institute report above showed that consumers value the natural label more than the organic one! That's great news for marketers, right?
Unfortunately, it's up to us as consumers to be diligent. We have to read labels and know what we're buying. What makes our jobs easier are certifications like USDA Organic and Non-GMO Certified. The latter is pretty straightforward. If the Non-GMO Project certifies a product, it means that product doesn't contain GMOs. With organic, there are some shades of gray. Here are terms to look out for:
X% Organic – That means some ingredients aren't organic. Check the ingredients list to see if the corn, soy, and canola are organic.
Made with Organic Ingredients – Same as above. You'll need to read the ingredients list to be sure.
Part of me does feel bad for Kashi, since they didn't technically do anything wrong. Another part of me is glad that people are finally talking about the term "natural." Educated consumers are powerful. The more we know about what's in our food, the less susceptible we are to greenwashing and the more likely that companies will have to actually make sustainable products, instead of just using empty marketing terminology.
What do you guys think? Do you eat Kashi products? Now that you know that they may contain GMOs, will you still support Kashi with your wallet?
Image Credit: Creative Commons photo via Millions Against Monstanto