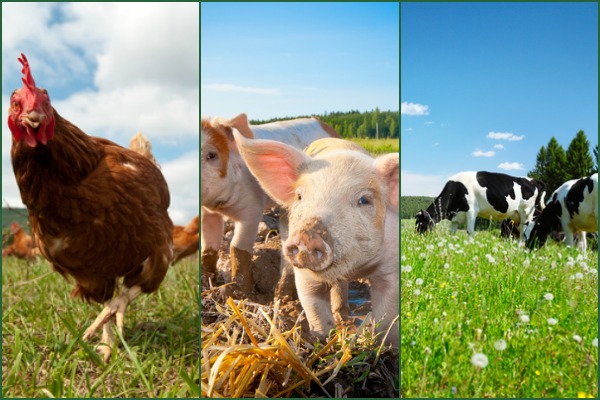 Last week, I met one of my food heroes and teachers — Joel Salatin — the lunatic farmer of Polyface Farms in Virginia's Shenandoah Valley. Never heard of him? Let's fix that.
Who is Joel Salatin?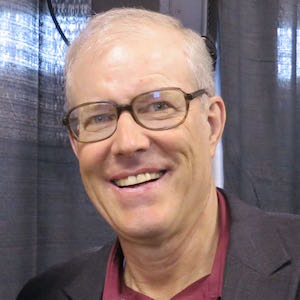 When I decided I wanted to start an herb farm, I bought Joel's book You Can Farm. That was just the beginning of what I would learn from Joel Salatin.
Joel's parents started their family farm in 1961. Today four generations of the Salatin family live there, raising cows, pigs, turkeys, and chickens. But the Salatin family farms differently — without chemicals, antibiotics, or close animal confinement — leveraging the processes nature created. They believe "the Creator's design is still the best pattern for the biological world." Their guiding principles include transparency, grass-based processes, and respect for the individuality of each animal. They also emphasize community. They don't ship food, believing we should all seek out food close to our home.
It's a lovely dance at Polyface Farms, choreographed by mother nature. Cows range freely within a portable electric fence, moving from pasture to pasture pruning the grass. They're followed by the farm's Eggmobile which houses laying hens that dig into the poop left behind by the cows. The hens eat the bugs from the droppings, breaking up the piles which subsequently decompose and feed the grass. These are happy hens that lay the nutritious, pastured eggs the farm sells.
Turkeys and broilers also roam the land in portable field shelters that are moved from pasture to pasture where they get exercise, sunshine, and fresh air. Pigs are in special fields rotated every few days during summer and fall, and in the winter, the pigs exercise their natural instinct to root, helping create compost naturally in partnership with the farm's cows.
Joel has written a number of books including Folks This Ain't Normal: A Farmer's Advice for Happier Hens, Healthier People, and a Better World and The Sheer Ecstacy of Being a Lunatic Farmer, in which he shares his philosophies and practices. And he's a brilliant speaker — sought after for good-farm-real-food conferences and events across the country.
That's how I met him.
It Was a Great Day
Last week, I attended the first annual sōl Conference in Dallas. The conference was presented by two farm-and-food-friendly organizations: Urban Acres — a local organic produce co-op — and Carbon Economy Series — a group that conducts lectures and workshops in Dallas and Santa Fe designed to teach earth-friendly, sustainable growing practices. Joel Salatin was the keynote speaker, participating in sessions the entire day.
The goals of the event were simple: The hosts wanted us to learn, be inspired, and make one commitment to create positive change. Joel spoke about his farming practices, what's wrong with our food system today, and how we can help heal it. I learned about raising backyard chickens and honeybees and was inspired by Jess Longoria, a young, female farmer of local, organic produce who said she'd much rather be outside than in an office. And I watched one of our local chefs demonstrate how to break down a whole hog. That was a unique and interesting experience.
Outside the event hall, our hosts set up a marketplace for local producers and sustainability organizations. I met ranchers of grass-fed beef and pork, folks from Slow Food Dallas, and a lady that owns a cool little sustainably-focused hardware store in the city. Oh — and Charlie — that lady's incredibly handsome rooster.
There were more than a hundred people there, which is remarkable because most don't see Dallas as a hotbed of sustainability and local food. Men, women, young, old, farmers, ranchers, families, foodies, hippies — all represented. I was excited to meet and hear from one of my food heroes, but I was also happy to be among "my people." I keep telling my husband: "I need to find my people." They were there.
A Bit of Joel Salatin Wisdom
Throughout the day, drops of wisdom and inspiration fell. Here are a few of my favorites…
Joel talked about "healing the land one bite at a time." With every bite we take, we are making a choice — a decision — that can be good for the earth or harmful. He said: "We are where we are collectively because of decisions we have made. The bite that we choose has an effect on the land our children will inherit."
On his farm, they let function drive form. Animals move, so the farm needs portable methods to control, shelter, feed, and water those animals. They want to honor "the pigness of the pigs." I love that.
Joel thinks we are wrong to believe that life is mechanical, not biological. That belief makes us think we can manipulate plants and animals. But machines don't heal — life is not mechanical. He thinks we are wrong to believe that animals should be housed, that we're smarter than nature, and that government knows best. And the fact that we think food should not spoil is crazy; if it won't spoil, it won't digest.
I learned that as a country, we spend the least per capita on food and the most on healthcare. Joel believes we're more concerned about the cleanness of the gas we put in our cars than the food we put in our bodies.
And as far as the giant, hairy hog that he helped break down, he said this: "This animal has been honored in life and in death. And you can't have life without death. If the animal is not honored, it cheapens the sacrifice and the value of life and what it takes to make life." Amen.
Oh, and he has a great laugh. I can't wait until next year. I hope he comes back.
Have you read any of Joel Salatin's work? What has inspired you the most?
Image Credits: Mary Gerush and Shutterstock