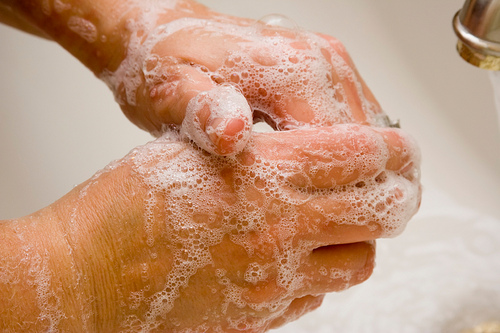 When a major multi-national consumer products good company makes good they deserve recognition.
Last week, Johnson & Johnson  announced its plan to reformulate its products to phase out dangerous chemicals like triclosan, 1,4 dioxane, phthalates, parabens and formaldehyde-releasers from nearly all its toiletries and cosmetic products within 3 1/2 years.
I recently received a mass email from the consumer watchdog group, the Environmental Working Group applauding Johnson & Johnson. EWG, along with the Campaign for Safe Cosmetics, has been working on  cosmetics companies including J&J – makers of brands like Neutrogena, Aveeno, Clean & Clear, RoC and Lubriderm – to produce safer products.
J&J is the first major personal care products manufacturer to take such an important action in favor of its customers' safety. J&J is also a player in the nutritionals market with the products such as Splenda, Lactaid and  Viactiv. When a company as large and influential as J&J makes a switch it is sure to be a game changer and the other giants in the market place will likely follow soon.
Why should you care? Triclosan makes it into our food supply through fertilization using sewage sludge and identified endocrine disruptor. Formaldehyde-releasers and 1,4 dioxane are probable human carcinogens; formaldehyde also is a skin, eye and respiratory irritant.
EWG is asking people to sign a petition thanking Johnson & Johnson for taking a leading role in the personal care products industry by reformulating its products.
As a long time advocate for marketing transparency who has blogged on the misanthropy of mega brands including Skinnygirl Cocktails and Frito-Lay's SunChips and Tostitos, I consider J&J's move truly excellent news. We know that consumer pressure is one of the best ways to get a company to change its un-eco ways. It stands to reason that positive feedback is just as important.  Signing the petition lets J&J know that they made the right choice.