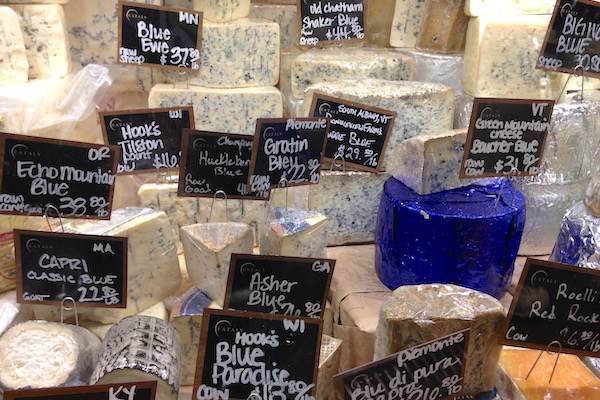 If I could live anywhere, I'd live in Italy. It's warm and friendly, family comes first, and they live to eat and drink. The next best thing? Eataly — Chicago's Italian food megamarket. All things Italian in one city block. I visited recently for the first time, and over the course of four days, I ate my way from one end to the other. Sensazionale!
The concept is simple. The people at Eataly love food — particularly Italian food. (They call themselves Eatalians.) And they're passionate about sharing it with others while teaching them about the cuisine and culture of their country.
The store is two floors of Italian kitchenwares, pantry staples, wines and beers, produce stands, and restaurants. In other words, an Italian food lover's heaven.
Let me take you on a tour of my favorite spots!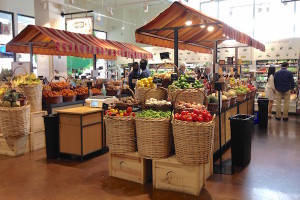 Il Frutto e Le Verdure
Coming off the escalator, you're presented with a lively, colorful produce market, overflowing with fresh fruit, vegetables, and herbs. Gorgeously plump heirloom tomatoes. Bright green shishito peppers (which are delicious roasted and salted). Even fuzzy, fleshy, green almonds — which I didn't know were a thing. (They're the young, developing fruits of the almond tree, eaten whole before the shell has hardened. In season now!) The variety is amazing and everything looks so fresh. Definitely a top spot for vegans and vegetarians — and anybody else who loves produce.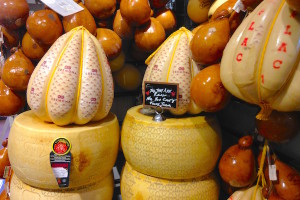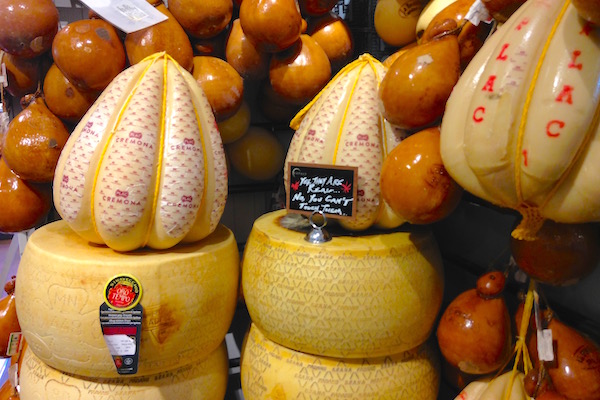 Il Formaggio
Ever seen giant rounds of Parmigiano Reggiano stacked as high as your head? You will at Eataly. One corner of the shop is dedicated to all things cheese. Shelves filled with every Italian cheese you know and dozens you've never heard of. Cheese aging gracefully, suspended from rods above the counter. Their housemade mozzarella is made daily from local whole milk right in front of you, and it's delightful. And don't get me started on the burrata — which is mozzarella filled with cream. Try some of that on a sliced heirloom tomato with a drizzle of olive oil and a shake of salt and pepper…yum.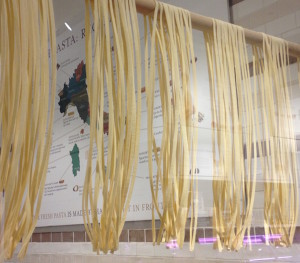 La Pasta
Pasta is always a favorite. We make it from scratch every once in awhile, which gives me great respect for people who are good at turning flour, water, and eggs into delicate, thin, light pasta dough. At Eataly, they make fresh pasta every day using local, pastured eggs from chickens fed an organic, vegetarian diet. Shapes from all regions of Italy, some stuffed with savory fillings, others delicately hanging from rods to dry. And don't think fresh pasta is the only option. 5 or 6 long shelves overflow with dried pasta from Italian food producers. I never would've imagined there could be such a wide variety of shapes and sizes. Oh, but there are. And you can get them at Eataly.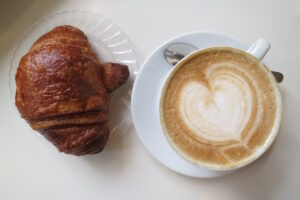 Il Pane
What's an Italian meal without bread? Again handmade daily, using flour ground from grains originating in local and regional organic farms. They use a living "mother leaven" — lievito madre in Italian — to give their Italian bread its unique flavor, and they bake it in a wood oven from Spain which was assembled, brick by brick, in the bakery. The oven's bricks vary in temperature, so Eataly's bakers move the loaves around by hand to make sure they get just the right amount of doneness. In the store's restaurants (see the next section), slices of these crusty Italian breads come to your table with a dish of olive oil. Deliziosa.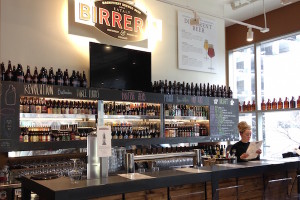 I Ristoranti
At Eataly, you can have a great sit-down meal almost anywhere in the store — there are 23 eateries! Want to grab a snack while you watch the guys frying up crispy, fresh vegetables? Sit at the counter of Il Fritto and order up some charcuterie and fried mushrooms. Want to be entranced watching someone pull and stretch fresh mozzarella? There's a counter for that too — La Mozzarella.
If you're not the "counter" type, grab a table at  La Birreria, La Rosticceria, La Carne, or La Pizza & La Pasta. Each with a full menu differing slightly from restaurant to restaurant.
Need to grab and go? Pick up a panino, coffee, gelato, or a crusty piece of Italian bread spread with Nutella. Yes, there's a counter dedicated to Nutella, serving crepes with Nutella and banana slices, Nutella and pistachios, and other Nutella-centric combinations — even a crepe con Luxardo triplum — a crepe filled with Nutella and Luxardo triple sec.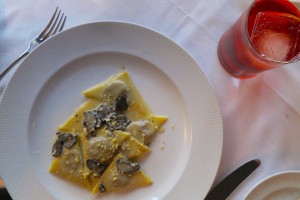 For a fantastic fine dining experience, make a reservation at Baffo, Eataly's formal dining room presenting a traditional 3-course Italian menu. I normally find it difficult to down an antipasto, primo, and secondo, but we made ourselves. And it was well worth our overstuffed bellies. Finished off with some delicate chocolates and their housemade liqueur, it was a meal to remember.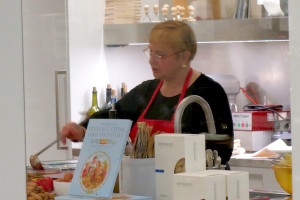 The Best Part
I can't end the tour before sharing the fact that I got to see Lidia Bastianich — of PBS cooking show and Italian cookbook fame — in action. She was teaching a cooking class at Eataly. It was sold out, but I got to watch her in action through a plate glass window. Coolio.
I've barely scratched the surface of what it's like to live in Eataly for a few days. If you're in Chicago or New York City, make it a point to visit. You can also order from them online. And if I've whet your appetite and you must have Italian food right now, check out these recipes and get cooking. Buon appetito!
EATALY wants to challenge the idea that quality products are accessible only to a select few. Good eating and shopping is not limited to connoisseurs; it is an agricultural act we all have the right, "diritto" in Italian, to enjoy. At Eataly, we believe that we're in this together: what you choose every day determines what we'll stock on our shelves over time. When you demand quality products, you support the local farmers, fishermen, butchers, bakers, and cheesemakers who produce them and create a better environment, for eating and beyond. Eat Better, Live Better Today.
Image Credits: Mary Gerush