The Buzz on Local Food Sales
A new report released by the U.S. Department of Agriculture (USDA) is creating quite a buzz after reporting that in 2008, the sale of local foods was a whopping $48 billion. As stated on the United States Agriculture and Food Law and Policy  blog:
"A new U.S. Department of Agriculture report says sales of "local foods," whether sold direct to consumers at farmers markets or through intermediaries such as grocers or restaurants, amounted to $4.8 billion in 2008. That's a number several times greater than earlier estimates, and the department predicts locally grown foods will generate $7 billion in sales this year."
The USDA report is encouraging news for those who care about local food production as a solution in part, to our broken food production systems. The billions of dollars in sales of mainly fruits and vegetables is an impressive number but is only a small percentage of total food sales in the United States. Still, if you take a closer look, the impact regionally is impressive. For example, farms on the West Coast (California, Oregon and Washington) produce 56% of the fruit, vegetables and nuts nationally and account for 31% of local food sales, due to a long history of farmer's markets and farm-to-grocer networks (since the 1970s) in that region.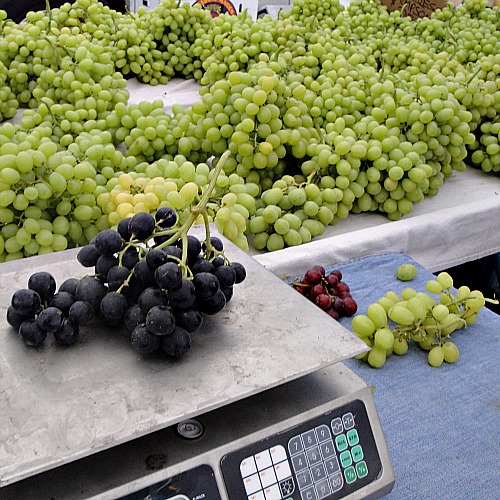 Urban Agriculture: Coming to a City Near You?
The report also contains some interesting data about the makeup of the farms that supply local foods and the regions in which they are clustered: the West Coast and Northeastern United States, with sprinkles of activity in between.  Not surprisingly, small farms (farm size is based on sales) use direct-to-consumer sales as their primary market venue. Medium farms are more likely to use a combination of direct sales to consumers and intermediary sales (to grocers or restaurants).
Large farms exclusively used intermediary channels for their produce and tend to be located away from urban areas, whereas small and medium farms are found closer to the urban areas they serve. Large farms make up only 5% of farms with local food sales. Although the large farms had higher sales in total dollars overall, the small and medium farms had less costs for transportation since they are located closer to their consumers. Additionally, small farms appeared most likely to reach profitability sooner than medium or larger farms, even though their dollar value in sales is less.
The report concludes that:
"Findings suggest that local food sales have the potential for community economic development in certain areas of the country, particularly those close to urban areas."
Support Your Local Food Network
This movement has been quietly growing for some time through the dedication of committed individuals. Organizations such as Slow Money, the Fair Food Network, Local Harvest, and scores of others that are devoted to expanding urban agriculture and local food networks already know that the economic benefit is real and viable.
You can download the 38 page PDF report at here.
Reference:
S.A. Low and S. Vogel, Direct and Intermediated Marketing of Local Foods in the United States, November 2011; Economic Research Report Number 128, USDA.
Photos by Urban Artichoke