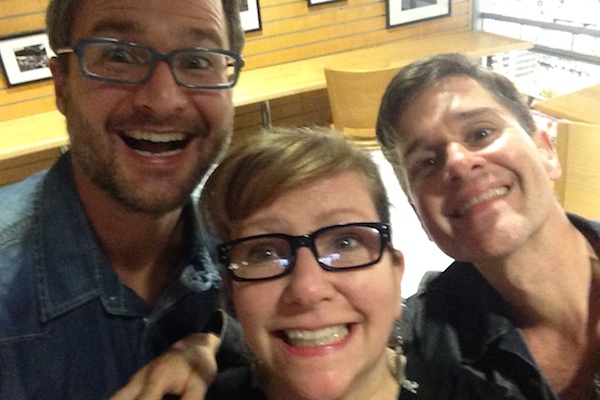 Cuter than two frolicking baby goats. Funnier than Carol Burnett wearing curtains in her Gone with the Wind skit. More creative than Martha Stewart. (Yeah, I went there.) This week, I got to meet the fabulous Beekman Boys — Brent Ridge and Josh Kilmer-Purcell — two of my food heroes.
Don't know their story? You're missing out my friend.
Who Are Those Beekman Boys?
Here's an abbreviated history of the life and times (to date) of these two inspiring young men.
Brent, a doctor, and his partner Josh, an advertising exec, were living in New York City when they took a few days off, traveled upstate, and discovered the Beekman mansion. The Sharon Springs, NY property was for sale. A dream was born. They became organic farmers — raising goats and growing much of the food they eat. They hired an experienced goat farmer, Farmer John. And they adopted a llama named Polka Spot.
Then Josh wrote a book about their city-guys-turned-farmers adventures. The Bucolic Plague: How Two Manhattanites Became Gentlemen Farmers is a great read and one of the early inspirations for my dream of starting an urban farm. Published in 2010, the book's back cover describes it perfectly: "The Bucolic Plague is a tart and sweet, touching and laugh-out-loud funny story about goats, mud, homemade soap, approaching middle age, and finding new depths of love and commitment wherever you live." You. Must. Read.
Then they became reality TV stars. The Fabulous Beekman Boys aired in 2010, following the pair's early days on the farm. It's funny, sweet, and sad at times. Brent lived full time on the farm while Josh kept his "day job" in the city, coming home on the weekends when he could. Yep — lots of stress. But they persevered, opening the Beekman 1802 Mercantile — a brick-and-mortar shop and online site filled with a clever selection of food- and farm-inspired products. (They only filmed two seasons of the show, but you can catch it in reruns on The Cooking Channel. Go set your DVR and prepare to be properly entertained.)
Then they started making natural beauty products. They started making cheese. (I bought my first wheel of Blaak — an aged cow and sheep milk cheese covered in ash — this year. Delightful.) They launched an annual harvest festival in the somewhat abandoned town of Sharon Springs, helping to revive their new home town. They wrote cookbooks.
And then they became millionaires. (Spoiler Alert!) Not from selling their wares, but from winning The Amazing Race. I was already a fan when their season of the globe-trekking reality race aired in 2012. They lagged the entire race, but came back to win the million bucks! It was … Awesome!
Where Are They Now?
They used their Race winnings to pay off their mortgage and become full-time Beekman Boys. They're visiting cities across the country telling their story and selling copies of their latest cookbook — The Beekman 1802 Heirloom Vegetable Cookbook. As with everything they create, the book is beautiful and more than just a cookbook. It reminds you to cook and eat with soul, acknowledging the ingredients and history of the recipes you follow.
Those Beekman Boys are also raising awareness of their latest food creations — the Mortgage Lifter line of tomato-based sauces and bruschetta toppings. Here's the cool part: They're taking their good fortune and paying it forward, donating 25% of the profits from Mortgage Lifter sales to small farms. After year one, they were able to give away $13,000 to help small farms succeed. You can buy the sauces online and in many Central Markets and Super Targets.
Learn More About the Fabulous Beekman Boys
Is it any wonder Brent and Josh are my food heroes?
They were in Dallas this past Thursday, hosting a dinner party and cooking demo at a local Central Market, and it was superb. Not only are they cute, funny, and creative, they're humbly down-to-earth. And their hearts are so in the right place. Focused on building community, growing sustainably, eating with purpose, and bringing focus to small farms. Want to know more? Here you go…
Once you get to know them, they'll be your food heroes too! If you dive into the links above, please let me know what you think!
Image Credit: Mary Gerush (Best Selfie Ever)