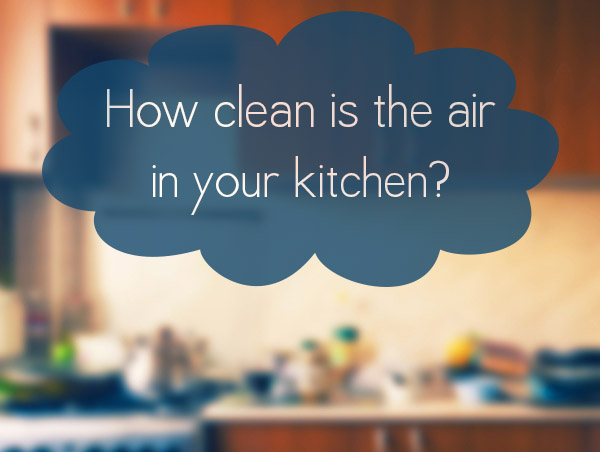 When we talk about a healthy kitchen, we talk a lot about choosing organic food and ditching toxic plastics. But what about the air in our kitchens? The kitchen can be one of the most polluted rooms in our home.
We spend about 90 percent of our time indoors, and for folks who love food, a lot of that time is spent in the kitchen. We cook, eat, and congregate in this room. Jill wrote a piece last year about using essential oils rather than toxic chemicals to clean our kitchens, and  that is a great first step toward clearing the air in our favorite room.
Cleaning products are just one place where pollutants hide in our kitchens. As the infographic below indicates, though, there are other places where we can make our kitchens healthier.
Spray pesticides, for example, might keep ants out of the fruit bowl, but they also release Volatile Organic Compounds (VOCs) into the air, which harm our health. A great way to avoid spray pesticides is to use natural pest deterrent methods. Try this natural fruit fly trap or these other natural pest control methods before reaching for more toxic spray pesticides.
Even if you're doing everything right in your kitchen, using an air filter to purify your kitchen's indoor air is a good move for your health. Our sponsors at AirFilterBuy.com offer an array of helpful solutions to indoor air pollution in your kitchen and beyond. Check out their infographic below – it's almost like a room-by-room checklist for where pollutants might be hiding in your home. You can click the graphic to view a larger version.

This post was generously sponsored by AirFilterBuy.com; kitchen photo via Shutterstock.