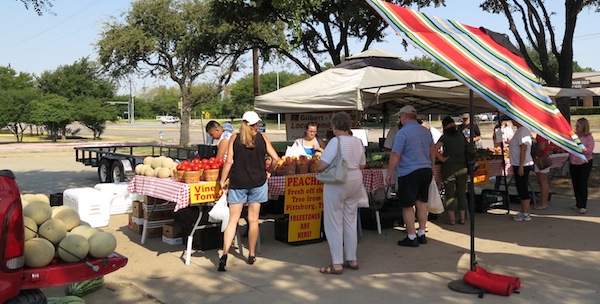 This is my favorite farmers market.
It's not the biggest or the most beautiful. Only two true produce stands sit within the collection of tents where folks sell tamales, jewelry, bread, and other non-farm products. But it's the farmers market nearest my house. And the produce is grown and sold by local farm families, as is the local, grass-fed beef I can buy from Jerry Helm, the tall rancher who mans Terra Siena's meat-filled freezers.
It feels like summer is over, but there is still time to enjoy the bounty and benefits of your local farmers market. That's what American Farmland Trust's "I Love My Farmers Market" celebration is all about.
I Love My Farmers Market Celebration works to raise the national awareness about our glorious farmers markets. Farmers markets provide the vital link between eaters and where our food comes from and as such highlight the importance of protecting farmland.
Shopping at your local farmers market benefits everyone! Take a look at this infographic.
To join the festivities, simply pledge to spend $10 at your favorite local farmers market this week. (Here is a tool you can use to search for participating markets.) Each week, one participant and his or her favorite farmer will receive a No Farms, No Food® hat. You can make this pledge every day if you like — each pledge is a vote for your favorite market. The 100 most celebrated farmers markets will receive a special logo, No Farms, No Food® gear, and a mention on the celebration's web site. You can also get a free No Farms, No Food® bumper sticker from American Farmland Trust by filling out a simple form.
The celebration is in full swing until September 9th. Will you pledge?
Image Credit: Mary Gerush | Infographic Credit: American Farmland Trust