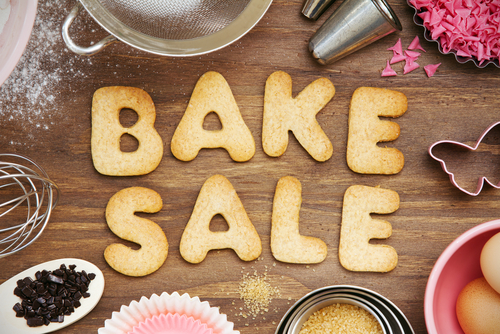 The folks at Cookies for Kids' Cancer have even created a Bake Sale Supply Kit which has just about everything you need to host a bake sale.
As the people who (literally) wrote the book on bake sales, they know just what it takes to throw a great sale. These tips are modified from the Cookies for Kids' Cancer Bake Sale Supply Kit.
What you'll need:
A donation jar
An assortment of bags and twist ties for packaging cookies, brownies, cupcakes, and breads.
Stickers.  Stickers letting your customers know who the beneficiary of your bake sale is are a good idea.
Brochures about the beneficiary organization to distribute to people who want more info, if appropriate.
Baked goods (of course!)
Posters and banners to advertise your bake sale.
1. Plan and prep
Get others involved. Recruit friends, family, neighbors to participate.
Set a date and pick a location.
Set a fund raising goal.
Plan the menu. If you're looking for ideas check out The Best Bake Sale Cookbook, by Gretchen Holt-Witt, the founder of Cookies for Kids' Cancer. 100% of the author's proceeds and royalties are donated to Cookie's for Kids' Cancer to fund pediatric cancer research.
Reach out to local businesses for donations whether in kind through product or ingredient support or monetarily.
2. Details
Make shopping lists.
Remember to buy an assortment of bags and twist ties.
Color coordinate table cloths, platters and your bake sale team's attire.
Have plenty of change ready. Go to the bank to get small bills and coins.
Have a "Make Checks Payable To" sign.
Find a donation jar.
3. Bake and wrap
Give your team of bakers a schedule for when to have their baked goods ready.
Gather your bake sale team the night before the event to wrap your baked goods and plan out the presentation. Take the time that night to set your prices and make pricing stickers, signs or handouts.
Set aside everything you need for the bake sale – tables, tablecloths, chairs, platters, flowers, pens, signs and handouts.
4. Sell
Arrive early to your location and give yourself plenty of time to set up.
Smile and sell! If kids are involved, let them entice buyers with a simple cheer or greeting.
Thank every customer for their support.
5. Once it's over
Pack up, go home, count the donations.
Convert cash to a personal check or money order and mail or deliver, along with any checks you received, to your chosen charity.
Pat yourself on the back for a job well done.
The Cookies for Kids' Cancer kit, with almost everything you need to throw a bake sale for the organization, contains some extra goodies like King Arthur Flour coupons to help cut down your baking costs and an OXO pop container that can be used as a donation jar. The kit costs $34.99 and shipping is free. The Cookies for Kids' Cancer website also has a ton of great free downloadable posters, banners and letters as well.
Of course, you can choose any charity to have a bake sale for.  That said, if you've got the bake sale bug and you're looking for a great cause, Cookies for Kids' Cancer is a great one.