When you think about fighting diabetes, you might imagine an arsenal of medications, but that's not the only way to treat this lifestyle disease. Learn how to fight diabetes with diet!
A diagnosis of prediabetes sounds exactly like what you'd think it is: your body has symptoms that set you on the path towards diabetes. An estimated 38 percent of Americans have prediabetes, as reported in a 2015 study by the Journal of the American Medical Association.
Prediabetes and diabetes are often considered lifestyle diseases, conditions that can be treated, prevented and often healed with a healthier diet and lifestyle. But unfortunately, a large percentage of people will not make the changes necessary to improve their condition. Consumer Reports shares that "Up to 30 percent of people with prediabetes who don't make healthy lifestyle changes develop type 2 diabetes within five years, according to the Centers for Disease Control and Prevention."
One of the key solutions to helping to fight back against prediabetes turning into full-blown diabetes is simply eating more plant foods and making changes to your lifestyle that includes more physical activity.
The risk factors for prediabetes include an age over 45, eating a lot of animal protein, being overweight, not exercising much, having a family history of the disease, and/or if you have gestational diabetes in pregnancy. Consumer Reports also notes that you're considered prediabetic if, "a test of blood sugar control over the previous three months shows a hemoglobin A1C of 5.7 to 6.4, or a fasting blood glucose level of 100 to 125 milligrams per deciliter, or mg/dL." Check with your doctor to check on your numbers, and know your numbers.
Even Consumer Reports explains that prediabetes is not usually treated with medicine, but diabetes often is. If you want to save money and keep off the meds, here are ways you can reverse prediabetes and diabetes and set your body on a course for wellness.
Eat less red meat.
This is maybe the advice that people want to hear least, but seems to be the most effective. There is a lot of evidence (here and here) showing that even a moderate amount of red meat can increase your chances of getting diabetes. This risk is there whether or not the patient eats a good amount of fruits and vegetables.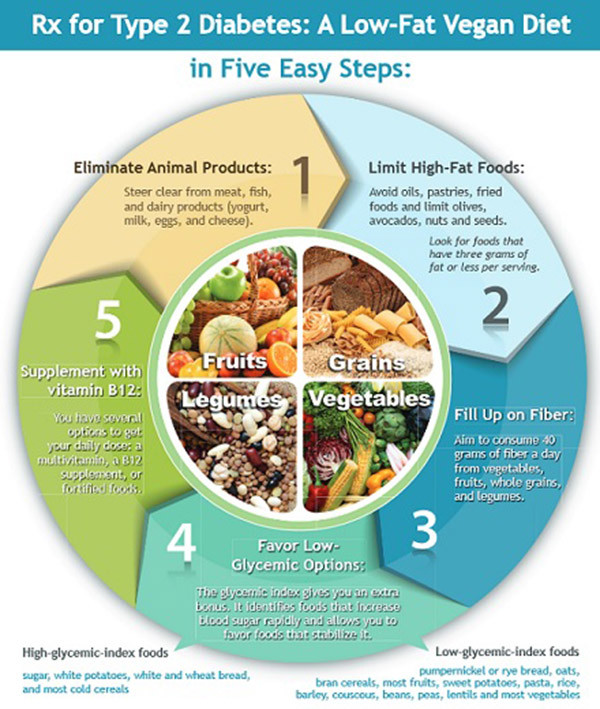 Eat less sugar.
Sugar is bad for our bodies, plain and simple. Our food supply is filled with an excess of sugar, which means even when you think you are eating something savory (like bread, pasta sauce, whole grain cereal), you can almost bet there is a huge dose of sugar hiding in the box or bag. Here are five tips to reducing your sugar intake.
Supplement with fiber.
Healthy fiber can improve your digestion, improve your gut health, and in doing so help improve the hunger hormones in your body, leading you to more steady eating habits and fewer cravings. It might seem farfetched, but increasing the fiber in your diet is a key to wellness, and if you have a diet that is heavy on animal proteins, now is the perfect time to supplement with fiber supplements like psyllium husks and high-fiber foods to improve your gut (and whole-body) health.
Plan better snacks.
There's nothing wrong with having a snack between meals, but making sure your snacks treat your body well is imperative if you have risk factors for diabetes (and even if you don't).
While a muffin might sound like a good mid-morning snack, the processed flour and sugar will spike your blood sugar, leading to a crash soon after. This stresses out the body's insulin response. Over time, this can increase the risk for diabetes.
Building a better snack is easy: make sure all your snacks contain fat, fiber and protein. Fat, fiber, and proteins help to slow the absorption of sugar into the blood stream, and the fiber and protein work to keep you feeling fuller, longer. Good fat-, fiber-, and protein-rich snacks include:
nut butters and fruit
dried fruits and seeds or nuts
hummus with whole-grain crackers
smoothies with nut butter or seeds blended in
veggies with a healthy dip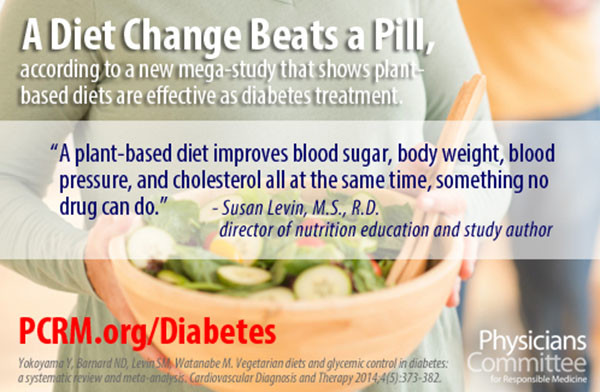 Eat more fruits and vegetables.
Even without calorie- or carb-counting, studies show that people can absolutely treat diabetes and lose weight while eating a fully plant-based diet with much more success than even the diet recommended by the American Diabetes Association. A review of all such studies shows that a plant-based diet reduces blood sugar, body weight and cardiovascular risk, which is the most common cause of death associated with diabetics.
This advice might seem extreme, if you're used to the Standard American Diet. You have to ask yourself: which is more extreme? Eating a healthy diet rich in fruits, vegetables, whole grains, beans, nuts and seeds? Or spending thousands of dollars a year on medication to treat a disease that you could heal for free by changing how you eat?
Image Credit: Top image via Shutterstock, plant-based diet graphics via PCRM.