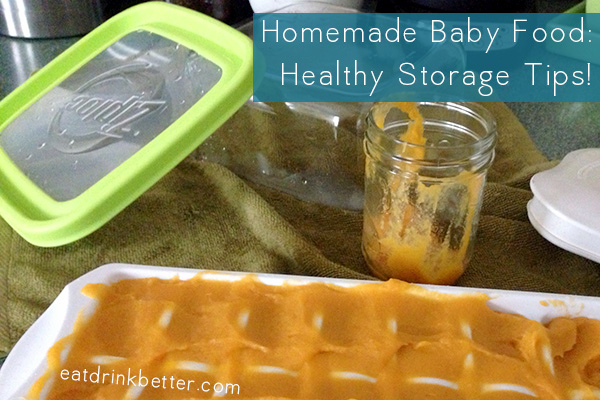 Are you making your own baby food but are sick of using plastic to store it? Check out these ideas for plastic-free homemade baby food storage!
A couple of weeks ago I talked about making homemade baby food and my baby, Darrol Henry's, first food. We're still doing sweet potatoes, and playing around with spices. I started out adding ginger, then cinnamon, and now I am trying him on ginger and cardamom. It's been so much fun coming up with ways to spice up his food, so he gets used to not just different textures but different flavors.
Homemade Baby Food Storage: The Fridge
Whether you're making large or small batches, you're going to end up storing at least a small amount of baby food in the refrigerator. It's tempting to reach for small plastic containers to store your baby food, but plastic isn't the healthiest thing for your little babe. I'm already bummed out that I have to use plastic ice cube trays to freeze the food (more on freezing baby food below!), so I didn't want to store the food in plastic too.
Instead of plastic containers, I've been using half-pint mason jars to store my baby food. The half-pint size is manageable, and it fits into our bottle warmer so I can heat the food for him easily. The half pint jars also have a better mouth shape than pint-sized jars, which taper in at the top. It's a lot easier to get food from the bottom of the jar without that tapering. It might sound nit-picky, but I'd much rather focus on Darrol Henry while I feed him than trying to angle the spoon to get at the food at the bottom of the jar.
Homemade Baby Food Storage: The Freezer
Like I mentioned earlier, the only plastic involved in making and storing my baby food right now is the ice cube tray. If anyone knows of a company that makes plastic-free ice trays, I would love to pick one up!
The other problem I've been running into with my homemade baby food is that many of the storage solutions seem to be plastic. Now that he's eating a little bit more, I have started making bigger batches of food and freezing them in ice cube trays. The thing is, you can't leave the food in the tray, because it will quickly get freezer burned.
The common advice here is to pop the frozen cubes of food into a freezer bag, and I was actually about to break down and buy a box of freezer bags when I saw something else in the same grocery store aisle. Ziplock now makes glass storage containers that are freezer safe! They're a little bit on the pricey side – my 32 ounce container cost around $12 – but you can use them over and over, and the only plastic is in the lid! (disclosure: Ziplock is not compensating me for this review. I bought this container with my own money and just want to share a product I found that's working for my family.)
One semi-negative thing that I will say about this method: the cubes tend to stick to each other and to the glass. To get a cube out, I have been using a butter knife or a spoon as sort of a crowbar to pop out the next cube. Really, it's not a big deal, just one small extra step.
It's been so convenient having those frozen cubes of food! When I'm running low or the homemade baby food in the fridge is past its prime, I just use a knife to pop a cube out of the covered glass bowl in the freezer, put the cube into a mason jar, and let it defrost overnight in the refrigerator. I use the same food for two full days before changing it out, so the evening that I pull the old food out of the fridge, I replace it with a cube of new food in a clean mason jar. Easy peasy!
Do you make your own homemade baby food? What plastic-free tools and storage supplies have you found that make it easier?