I recently spent the day enjoying a tour and wine and cheese tasting at the Hess Collection Winery In Napa.  It was a first class experience.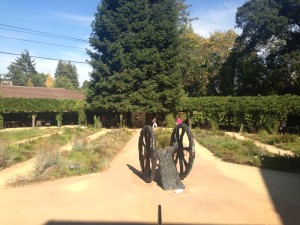 I recently spent the day at the Hess Collection Winery and, like many wineries and businesses in Napa, the evidence of the recent 6.0 earthquake could be seen everywhere. Although Hess' historic stone winery which houses a wide variety of wine making operations and  a world-class modern art collection (open daily without charge from 10 a.m. to 5 p.m.) seemed intact, their visitors center and wonderful gift shop had been damaged and was closed repairs.
But that didn't cramp the folks at Hess' style on bit. Wine and a small number of gift items were being sold from a folding table in the courtyard, the amazing contemporary art collection was open, the weather was perfect during our fascinating vineyard tour and wine tastings were still being held in the fabulous wisteria trellised courtyard.
What I love about Hess is that they strive to incorporate sustainable practices into every aspect of their business. Everything from their vineyard and winery operations to their product packaging is carefully considered and seen as an opportunity to improve sustainability.  I have written about many of Hess' sustainability programs before (they have massive solar installations and are deeply philanthropic, for example), and they never cease to amaze me with their commitment and innovation.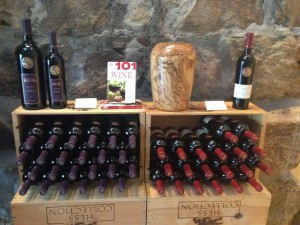 On the day we went, we were lucky enough to be guided by Bob Becker C.S. CWP Senior Wine Educator who filled us in on several of Hess' sustainability practices such as using hawks and owls for wildlife control and ground cover and goats for weed control instead of pesticides.  We were lucky enough to be treated to a wine and cheese pairing in a barrel room after our tour. We tasted several incredible and unique organically farmed wines including a tasty Hess Collection 2013 Small Block Orange Muscat and an ultra smooth Artezin 2011 Napa Valley Charbono and ate our full of local artisanal cheeses. If you can score a table in the garden courtyard for a wine and cheese pairing it will be the highlight of your visit (appointments are recommended!)
If you visit just one winery on a visit to Napa, I would recommend The Hess Collection Winery and its world-class art museum. It is undoubtedly one of the most unique attractions in Napa and an experience not to be missed.
Winery Photo: The Hess Collection