Growing Heirloom Beans
Last summer I grew several bean varieties for my self-designed heirloom bean trial; my goal was to see which grew best and to choose a few to expand in the next season. I want to grow enough to have dry beans for cooking over the winter. Why the excitement? I think it's fantastic to be able to grow a tasty and healthy protein source in my own suburban back and front yards. Besides that, I love the versatility of cooking with beans, and the varieties are endless if you venture beyond the grocery store.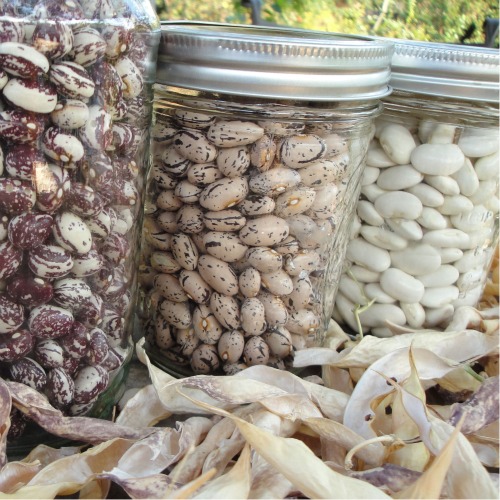 Bean Trial Results
Now that it's fall the results are in: a total yield of almost four pounds of beautiful dry beans of several types. That's more than I expected since I didn't grow very many of any one type for my trial. In all I tested seven runner beans and five varieties of common beans.
Runner bean varieties: Scarlet Runner, Ayocote Morado, Ayocote Negro, Alubia Criollo, Cannelini Runner, and Gigandes.
Common beans: Cranberry, Hutterite Soup, Good Mother Stallard, Tiger's Eye, and Hidatsa Shield Figure. The seeds came from three sources, Rancho Gordo, Iacopi Farms, or Seed Savers Exchange.
Another motivation for growing some of these is that they are not widely commercially available. You won't find most of these, if any, in your supermarket. It's extremely satisfying to be able to propagate them on a small amount of land, my suburban garden for example. I highly value being part of the grassroots movement to grow lesser known food plants to keep them from extinction.
Favorite Beans to Grow
It's going to be hard to choose only a few types to grow in quantity next summer, but I do have some favorites. We loved the Italian Butter Bean from Iacopi Farms in Half Moon Bay, near the SF Bay Area. Iacopi Farms sell at our farmer's market every Sunday, and they are the only vendor with dried beans for sale. I grew about 18 plants around two trellises in our front yard, which attracted a lot of bees. It turns out that the vines are beautiful, vigorous, and produce an abundance of long lasting cascading white flowers. I enjoyed telling admiring passersby that these lovely vines were actually bean plants! I harvested almost a pound of dry beans.
The cooked beans are creamy and luscious when sauteed in olive oil with freshly cut sweet corn off the cob and fresh garden basil or tarragon.
Other favorites are the Hidatsa Shield Figure and Tiger's Eye. These beautiful rare beans have intriguing histories. The Hidatsa Shield Figure bean was grown by the Hidatsa tribe in the Great Plains region, and Tiger's Eye is a new world bean that originated in Argentina or Chile. It's worth expanding the small amount of seeds I got into a bigger crop next year.
But for now, I look forward to enjoying my dry beans well into the winter with tasty satisfying dishes.
Photos by Urban Artichoke