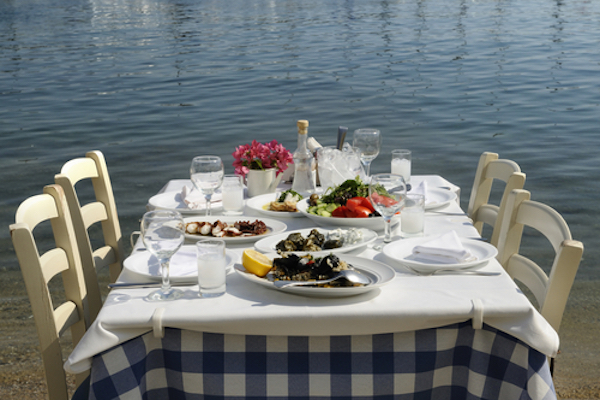 Want to cut your risk of heart disease in half?
A new study from the American College of Cardiology shows eating the heart healthy foods of the Mediterranean diet is the way to go.
Researchers followed more than 2,500 Greek adults from 18 to 89 years old for more than 10 years. Study participants followed the Mediterranean diet — a diet that emphasizes fruits, vegetables, nuts, and olive oils accompanied by seafood and red wine and lesser amounts of red meat, poultry, and dairy products. The participants provided health information each year and completed in-depth surveys about their medical records, lifestyle, and dietary habits at three points during the 10-year period.
The study looked at how closely each participant followed the Mediterranean diet based on self-reported frequency and intake levels for 11 food groups, searching for a link between adherence to the diet and its effect on risk of heart disease. It turned out the people who stuck most closely to the diet were 47 percent less likely to develop heart disease than those who didn't. In fact, sticking to the diet's heart healthy foods was more beneficial than physical activity. That's good news for us couch potatoes.
The Mediterranean diet's benefits go far beyond improved heart health. Other studies have shown it may help preserve memory and thinking abilities, prevent age-related weight gain, reduce risk of diabetes, prevent kidney disease, lower blood pressure, and lower blood cholesterol levels.
You have many choices when it comes to diet. But to lower your risk of cardiovascular disease, eating the heart healthy foods of the Mediterranean diet makes good sense.
Want to learn more about the study? Read about it here.
Want to know more about the Mediterranean diet? Oldways has a free "Welcome to the Mediterranean Diet" brochure just for you. And start exploring recipes from areas where the Mediterranean diet predominates: Crete, Greece, Southern Italy, Spain, Southern France, and Portugal.
Sounds tasty.
Image Credit: Heart Healthy Foods via Shutterstock