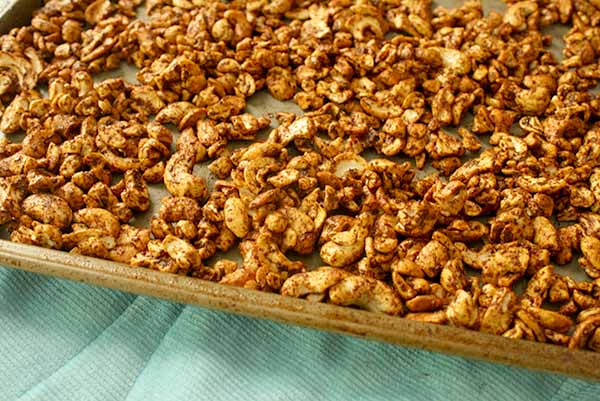 9 Healthy Holiday Salty Treats
Instead of salty, we really should have said savory. Most savory holiday treats are heavy on the salt, but you don't need a ton of salt to have a ton of flavor!
1. Curried Lentil Hummus – instead of gloppy, greasy dips, try a different spin on hummus for a nice, spiced appetizer that's a bit better for you. To up the health factor, serve with fresh veggies for dipping instead of chips.
2. Lentil Quinoa Falafel – I promise that these won't all be lentil-based! Falafel might not feel like holiday fare, but bake these babies up in bite-sized pieces and set them out with tahini for dipping, and watch them disappear. Way better for you than sausage balls!
3. Black Bean Papaya Salsa – there's something about fruit in a savory dish that's so nice around the holidays!
4. Plain Ol' Nuts – Just like with the fruit salad on the previous page, making that bowl of nuts appetizing is about skipping the boring stuff. No peanuts or Brazil nuts, you guys! Choose the nuts that people like: cashews, macadamia nuts, almonds, walnuts, etc. Go with lightly salted or unsalted nuts to make this even healthier. You can always salt them yourself later, if they need it – you'll use a lot less than a food company would!
5. Chili Lime Cashews – if plain ol' nuts seem boring, spice them up with some healthy seasonings! These have less salt and are less pricey than store-bought spiced nuts.
6. Baked Sweet Potato Fries – oven fries can be just as satisfying as greasier potato dishes but with less fat, less salt, and more nutrients.
7. Raw Sunflower Seed Pate – packed with fiber and protein, this dip is great spread on whole grain crackers or with carrot sticks and endive for dipping
8. Pine Nut Stuffed Mushrooms – instead of cream cheese, healthy nuts make these taste decadent with less of the….decadence!
9. Gingered Sweet Potato and Coconut Soup – soup is a great starter for a holiday meal, and this deeply-seasoned soup is much better for you than ones that are full of butter and cream!
What do you guys do to lighten up your holiday fare a bit? I'd love to hear how you're having a healthier holiday!