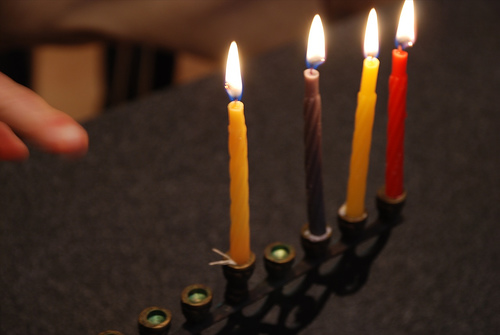 Eight nights of lights, food, family and gifts: Hanukkah is here! Over 8 days you will be over eating, over conversing, dealing with family and over spending, so how do you make this year's Festival of Lights healthy, green and budget-friendly?  With these tips and tricks!
Eco-nukkah Decor and Festivities
Make your own menorah – Get creative with the centerpiece of the holiday. Recycling and reusing every day materials is a great way to spice up the holiday. After all, conserving 1 night's worth of oil for 8 nights is the most eco holiday tradition around so why not step it up a notch!
Burn eco candles – Cheap and conventional candles are toxic when burned. So keep you and yours healthy this Hanukkah by choosing soy based, natural candles for your menorah and festivities. Or if you are using an electric menorah, choose LED lights
Crafty decor – keep the kids busy by having them make dreidels out of milk cartons and Stars of David out of Popsicle sticks. They have fun, you keep them away from the kitchen and they get to keep a holiday souvenir!
Dinner time
Instead of having traditional fried potato latkes, try oven-baking them. Also adding in some veggies such as spinach or broccoli. Or better yet, make sweet potato latkes! But if you must fry, opt for coconut oil as it is a much healthier option.
As for topping the latkes, swap out sour cream for the vegan version or top with applesauce. Or try a fabulous gourmet jam instead!
Lighten up your matzo balls by cooking them with non-hydrogenated vegan butter or lighter oil, perhaps grapeseed.
Leave out the meat! Serve up meat free dishes that feature fun things like Field Roast, Tofurky, Match Meats or Gardein. See ya cholesterol!
Fry your Sufganiot in coconut oil or better yet, bake them. And switch to dark chocolate gelt.
Make traditional pastries and cookies, like hamantashen or rugelach, with whole wheat flour or even gluten free flour.
And try these healthy, vegan recipes at your holiday seder!