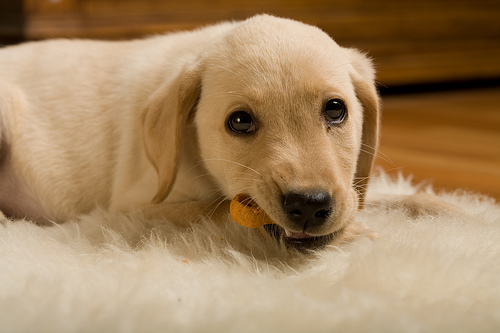 Here at Eat Drink Better, we talk a lot about how what we eat affects our health and the environment. And many of us are equally concerned about what our pets eat!
Most brand-name dog foods are horribly unhealthy. They're loaded with corn, soy, and industrial byproducts – not the types of ingredients dogs need to live long, healthy, and happy lives! I mean, isn't it common sense that dogs should be eating, um, mostly meat?
Unfortunately, dog treats are often even worse than dog food. It's amazing to me how much green-washing there is in the pet food industry. Take, for example, Beneful Snacking Slices. The first ingredient in these cute, vegetable-shaped treats is "chicken by-product meal," which sounds worse than what's passing for meat at Taco Bell these days. At least Taco Bell's taco filling doesn't contain "Yellow 6, Red 40, Yellow 5, Blue 1 and other color."
Luckily, you don't have to make a weekly batch of homemade dog treats to maintain your dog's training. There are quite a few healthy treat options out there, and some are even made from non-industrial meat! Here are my dog's favorites:
Grizzly Nu Treats – These tiny salmon treats are the perfect size for training, and one of the healthiest treats out there. They're grain-free and made from wild-caught – not farmed – salmon. The smoked salmon smell gets my dog's attention every time, and the fish oil makes her coat look amazing. (Cats love them too!)
Wildside Lamb'n Training Treats – These are the only lamb treats I've ever found that actually smell like real lamb meat, which makes sense because that's the first of only four ingredients (even Michael Pollan would approve of these treats!). Lamb is my preferred source of protein for my dog because lamb production has not been industrialized the way beef, pork, and chicken production has been. These training treats are grain-free, raw, and probably my dog's favorite treat!
Plato All Natural Duck Strips – Duck is another good protein for dog owners looking to avoid industrial beef, pork, and chicken. These wheat-free treats are great for dogs with food allergies to more conventional proteins.
Fruitables All-Natural Pumpkin & Apple Treat – I like to feed my dog mostly meat-based treats, but I sympathize with owners who don't like handling meat. If you hate the grease or the smell of the meaty treats, than Fruitables are the solution. Unlike many of the treats out there that advertise they're rich in fruit or vegetables, Fruitables are free of wheat, corn, soy, and artificial ingredients. And dogs love them!
Image courtesy of ttstam via a Creative Commons license.